Log-in
Register
















» Stats
Members: 9,951
Threads: 53,226
Posts: 593,840
Top Poster: xmas365 (143,994)

Welcome to our newest member, cinoextener
» Recent Comments
The Best of Christmas Sitcoms
My Top Ten list would not be complete without: All in the Family - Christmas at the Bunkers Andy Griffith Christmas episode Dick Van Dyke Christmas episode Mary Tyler Moore 1st Christmas episode...
Remember when Black Friday was on Friday?
Imagine what will happen if the stores are allowed to stay open all night Christmas Eve until lunch time on Christmas Day! This year, more than 50,000 restaurants, bars, convenience stores and...
My Dog Sam
Dear Abby, I too was picked on when I was a child and I too turned to our dog Queenie. She always gave me love and she always listened. Bless you.
| | |
| --- | --- |
| | |
02-20-2009, 03:21 PM
Leader of the Heavenly Host

Join Date: Nov 2007

Location: Ontario, Canada eh!

Posts: 117,124

Thanks: 98,806

Thanked 74,715 Times in 12,407 Posts
---
Originally Posted by
sgrover
We buy a few scratch offs now and then, I think we won $20 years ago. I'm sure we haven't broken even though.

Every couple of years we go to the Ho Chunk Casino in WI Dells. We went in January and came about about $265 ahead, that's the most ever I think. We usually go in with $50 each, and when it's gone, it's gone, or if we get ahead, WE'RE gone!
I forgot the casino thing...Went to Niagara Falls with the kids, my eldest had just turned 19. She wanted to see what a casino was like, so I agreed to take her and said we would only spend what I had on me, $15. I told her it would all be gone before we left because you just don't really win at these places. We walked out with $200
She has buged me ever since from time to time, wanting to go back for another lesson!
02-20-2009, 08:15 PM
Mistress of Home & Decor

Join Date: Aug 2006

Location: Sunny Florida

Posts: 2,799

Thanks: 164

Thanked 322 Times in 168 Posts
We play occasionally. The most I've won is $3.00
__________________
"MrsH, you're brilliant (and yes, quote me on that)." - Jeff Westover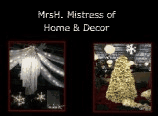 02-23-2009, 08:06 AM
Christmasologist

Join Date: Oct 2007

Location: Belgium

Posts: 1,569

Thanks: 304

Thanked 336 Times in 262 Posts
I never play. Chances to win are just too slim. Of course if you don't try, you'll never win. But I'm more of a calculated person.
__________________
It is in giving that you receive the greatest gift !
| | |
| --- | --- |
| | |
Posting Rules

You may not post new threads

You may not post replies

You may not post attachments

You may not edit your posts

---

HTML code is Off

---