Log-in
Register
















» Stats
Members: 9,951
Threads: 53,230
Posts: 594,028
Top Poster: xmas365 (144,123)

Welcome to our newest member, cinoextener
» Recent Comments
The Best of Christmas Sitcoms
My Top Ten list would not be complete without: All in the Family - Christmas at the Bunkers Andy Griffith Christmas episode Dick Van Dyke Christmas episode Mary Tyler Moore 1st Christmas episode...
Remember when Black Friday was on Friday?
Imagine what will happen if the stores are allowed to stay open all night Christmas Eve until lunch time on Christmas Day! This year, more than 50,000 restaurants, bars, convenience stores and...
My Dog Sam
Dear Abby, I too was picked on when I was a child and I too turned to our dog Queenie. She always gave me love and she always listened. Bless you.
09-02-2011, 06:25 PM
MMC's Ambassador to the North Pole

Join Date: Apr 2009

Location: Indiana

Posts: 124,063

Thanks: 82,474

Thanked 139,829 Times in 25,752 Posts
CMA's country christmas
---
From Facebook-

CMA Country Christmas returns this holiday season hosted by Sugarland's Jennifer Nettles. The shows tapes 11/10/11 at Nashville's Bridgestone Arena.


No word yet on when it will air.
__________________
Only in the agony of parting do we look into the depths of love. ~George Eliot
Don't forget to listen to the Greasy Skillet Saturday nights 8 to 10pm EST
09-02-2011, 07:59 PM
North Pole's RN

Join Date: Oct 2010

Location: Central Pa

Posts: 92,952

Thanks: 77,691

Thanked 72,330 Times in 12,305 Posts
Thanks Made for the info! Very exciting news! I loved the special last year and I am looking foward to this year again!
__________________
The best of all gifts around any Christmas tree: the presence of a happy family all wrapped up in each other.
- Burton Hillis
The Following User Says Thank You to sugar142286 For This Useful Post:
09-02-2011, 08:00 PM
Santa's Mentor

Join Date: Jul 2010

Location: Brantford, Ontario (Canada)

Posts: 5,077

Thanks: 3,524

Thanked 2,931 Times in 1,058 Posts
I cannot wait!
__________________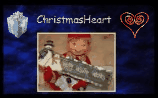 As long as we know in our hearts what Christmas ought to be, Christmas is."
~ Eric Sevareid
Posting Rules

You may not post new threads

You may not post replies

You may not post attachments

You may not edit your posts

---

HTML code is Off

---