Let's start a merry life music thread!!!
Using only song names from your favourite Christmas tunes cleverly answer these questions and statements by sharing your life through merry music. Try not to repeat a song title, performer or group in your list.
My Life According to Christmas Music…
Are you a male or female?
I Saw Mommy Kissing Santa Claus - Jimmy Boyd
Describe Yourself…
I Wish it Could Be Christmas Everyday - (Roy Wood) Wizzard
How do you feel today?
We Need A Little Christmas - Mitzi Gaynor
Describe where you live?
It's a Marshmallow World - Dean Martin & Frank Sinatra
If you could go anywhere, where would you go?
Up on the Housetop - Gene Autry
Your favorite form of transportation?
Sleigh Ride - Andy Williams
Your best friend is...
Here Comes Santa Claus - Elvis Presley
You and your friends are ...
Driving Home for Christmas - Chris Rea
Favourite time of day?
In the Quiet of Christmas Morning - The Moody Blues
If your life was a TV show, it would be called?
Hangin' 'Round the Mistletoe - Alabama
How do you like to celebrate life?
Rockin' Around the Christmas Tree - Brenda Lee
What excites you or stops you in your tracks?
Little Drummer Boy/Peace on Earth - Bing Crosby & David Bowie
What puzzles you?
You're a Mean One Mr. Grinch - Thurl Ravenscroft
What is the best advice you have to give:
Have a Holly Jolly Christmas - Burl Ives
Final word:
Do You Hear What I Hear? - Harry Simeone Chorale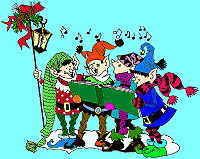 Please share your life through Christmas Music!
To make it easy, you can copy my post and substitute your song titles for the reply in order to personalize it.