Log-in
Register
















» Stats
Members: 9,951
Threads: 53,199
Posts: 593,027
Top Poster: xmas365 (143,324)

Welcome to our newest member, cinoextener
» Recent Comments
The Best of Christmas Sitcoms
My Top Ten list would not be complete without: All in the Family - Christmas at the Bunkers Andy Griffith Christmas episode Dick Van Dyke Christmas episode Mary Tyler Moore 1st Christmas episode...
Remember when Black Friday was on Friday?
Imagine what will happen if the stores are allowed to stay open all night Christmas Eve until lunch time on Christmas Day! This year, more than 50,000 restaurants, bars, convenience stores and...
My Dog Sam
Dear Abby, I too was picked on when I was a child and I too turned to our dog Queenie. She always gave me love and she always listened. Bless you.
07-11-2013, 11:09 AM
Santa's Mentor

Join Date: Sep 2010

Location: Tullahoma, Tn

Posts: 8,029

Thanks: 5,886

Thanked 5,573 Times in 1,274 Posts
Toy Story of Terror
---
Info from
http://halloweenspecials.wikia.com/w...tory_of_Terror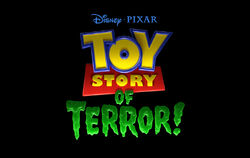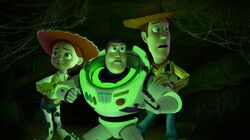 Toy Story of Terror
is a Halloween TV special that will be released in October 2013 on ABC, and the first television special produced by
Pixar
.
[1]
The special is directed by
Angus MacLane
and produced by
Galyn Susman
.
Toy Story of Terror is the first of two 22 minutes TV specials that are scheduled for 2013 and 2014.
[4]
Despite
Pixar Canada
was set up to produce TV specials
[5]
[4]
, this first special is produced by
Pixar Animation Studios
itself, according to
Dylan Brown
.
[6]
__________________
Art: The little lights aren't twinkling. Clark: I know, Art. And thanks for noticing.
The Following 11 Users Say Thank You to XmasDreams For This Useful Post:
caninemomssister
(09-19-2013),
Christmasstar
(07-11-2013),
DoubleA
(08-10-2013),
Holiday
(10-14-2013),
kgstyles
(07-13-2013),
KWasser
(08-02-2013),
Ryan
(08-01-2013),
snowflake22
(09-19-2013),
sugar142286
(10-14-2013),
xmastidings
(07-11-2013),
Yuletide Junkie
(07-11-2013)
Posting Rules

You may not post new threads

You may not post replies

You may not post attachments

You may not edit your posts

---

HTML code is Off

---