Well, I think we're all going to be a little biased and perhaps uninformed because most of us have never been anywhere. Besides, it is hard for me to choose.
My first choice is right here in Salt Lake City: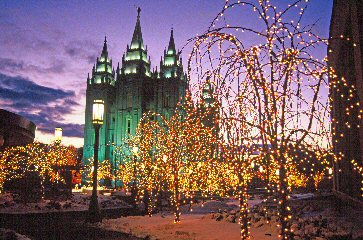 Temple Square and the gardens surrounding it in downtown SLC get decked with lights they start putting up in July. When the snow flies and you stand before the Nativity scene it is an amazing place to be.
However, I also love NYC at Christmastime, though I've only been there once at that time of the year.
Also, a nod to Fisherman's Wharf in San Francisco with all the boats decked in lights and their own brand of Christmas atmosphere -- FOG -- is always something to witness.