Log-in
Register
















» Stats
Members: 9,951
Threads: 53,234
Posts: 594,174
Top Poster: xmas365 (144,239)

Welcome to our newest member, cinoextener
» Recent Comments
The Best of Christmas Sitcoms
My Top Ten list would not be complete without: All in the Family - Christmas at the Bunkers Andy Griffith Christmas episode Dick Van Dyke Christmas episode Mary Tyler Moore 1st Christmas episode...
Remember when Black Friday was on Friday?
Imagine what will happen if the stores are allowed to stay open all night Christmas Eve until lunch time on Christmas Day! This year, more than 50,000 restaurants, bars, convenience stores and...
My Dog Sam
Dear Abby, I too was picked on when I was a child and I too turned to our dog Queenie. She always gave me love and she always listened. Bless you.
10-05-2005, 09:30 PM
Can't use users name
---
When I joined it let me join under Rennabelle, but when I try to post it won't let me use it. Says it is already taken. Help.
10-06-2005, 07:30 AM
Join Date: Oct 2004

Location: Salt Lake City, Utah

Posts: 9,971

Thanks: 229

Thanked 7,858 Times in 2,404 Posts
Rennabelle,

You have to be logged in to post. Something brought to our attention by a couple of users is that some have to log in twice for some reason. We're working on that. When you post, look up at the top of your screen and if you're not logged on you will not see your username. When you are logged in you'll see on the bottom right hand of the menu something like this:

*Log Out [Rennabelle]

If you don't see that, you're not logged in and will need to log in again.

Sorry for the inconvenience, we'll get it fixed as fast as we can.

Jeff
10-08-2005, 05:40 AM
MMC Hostess of Christmas Online

Join Date: Oct 2005

Location: Ontario, Canada

Posts: 4,851

Thanks: 1,372

Thanked 3,403 Times in 808 Posts
Welcome, Rennabelle, I hope you fix your problem.
__________________
Give yourself a merry gift and tune into MCR
http://www.live365.com/index.live
For more Jolly Fun, please visit:
www.ClausNet.com
www.ChristmasTalk.com
www.MagicalHolidayHome.com
http://realhalloween.com/
Donít forget to check out Cool Yule Comics
http://www.coolyulecomics.com/
and
http://www.whychristmas.com/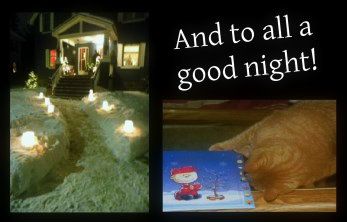 Posting Rules

You may not post new threads

You may not post replies

You may not post attachments

You may not edit your posts

---

HTML code is Off

---