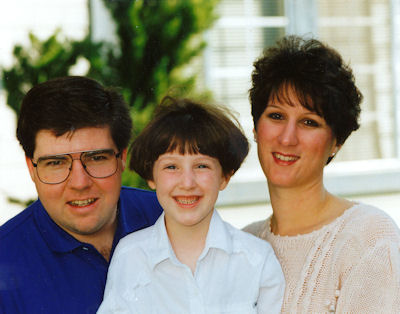 Santa and I go way back.
As a child, I loved Santa and Christmas. I loved the excitement of Christmas Eve and listening to Santa get closer from the news reports on the radio. I loved staying up all night with my brothers and sisters, speculating on where Santa was and how he did it every year.
I don't remember a thing that Santa brought me in those years. That was never really important.
What was important was that the Big Guy meant a season of magic and warmth. It meant cookies and candy canes, Christmas trees and lights, singing and merriment by all around me.
It was love -- pure and simple.
Somewhere along the line, I got older. But Santa was always there every year, no matter how old I got. Those Christmas Eves with my brothers and sisters faded away. But Santa never changed, in spite of the fact that I stopped writing to him. I never forgot him and I never stopped believing in him.
Ever.
When I got married and had a little girl, a terrible thing happened one day to her at school. Another five-year-old, probably a kid on Santa's naughty list, told my daughter Aubree that Santa doesn't exist.
She came home in tears with an awful story about Santa being made-up. She said Christmas was invented by parents who use Santa to bribe and compel their kids into good behavior.
It devastated her and it made me angry. I vowed to do something about it.
I tried talking to Aubree. But she would not believe me. The cynical bitterness of her peers had turned her. She was, at the tender age of five, a non-believer.
I did not know what to do. All I wanted that Christmas was for her to see that the season is important on many levels and that it should be held dear by all. And I felt is was good and right, as a five year old, for her to know about Santa Claus and to believe in him.
But nothing I said or did could sway her.
So I did what any true Christmas purist would do: I wrote Santa a letter and explained my Christmas wish. And that's when I received contact from Elf Ernest -- the head of Santa's Public Relations Department.
Ernest attacked the problem with all the seriousness an elf could muster.
Using the technology of the day, Ernest sent Aubree a fax from the North Pole, acknowledging her doubts and encouraging her to fax back any questions she might have about Santa Claus and Christmas. Every day he sent a fax that answered her questions woven into a story line about what Santa was doing at the North Pole to prepare for Christmas.
Aubree took it all in with giggles and smiles. I was sure she wasn't convinced of anything yet but she was at least enjoying herself.
One day early in December we took a trip to a Christmas tree farm and cut down a tree. On the way home, Aubree deliberated over what we should name the tree.
My wife was beside herself over Aubree's obsession with this crazy idea. Who ever heard of giving a Christmas tree a name? Well, Aubree had heard it from Elf Ernest.
Ernest had said in the
Update from the North Pole
the day before that Santa always gave his Christmas tree a name because it was a living thing. So, Aubree named our Christmas tree Wally.
At that point, I knew Aubree was taking Ernest seriously.
When the update said that Santa had attended a Christmas devotional the weekend before Christmas, she could identify because she had done the very same thing.
When an update said that Santa got in trouble with his wife because he spent too much time on his computer the night before, Aubree could related because the same thing had happened to me.
When explaining why Santa didn't work on Sundays, Aubree totally understood because we believe the same thing.
When Santa prayed, Aubree saw him more like her. He became in those few weeks more of a real, everyday person. He was no longer this phantom gift giver who checked to see if you were "good".
On the day before Christmas Eve Aubree found a package on the porch from Elf Ernest. It contained a map of the world and instructions for Aubree to follow on Christmas Eve day.
Starting at around 7am the fax machine starting ringing and for the whole day, every hour, Aubree received a special Update from the North Pole.
These updates gave her suggestions for how to fill her time during the day and told her where Santa was headed next.
Taping a piece of yarn to the map Aubree marked Santa's course throughout the day, the map showing a crazy line of his travels in marking major cities in the world he had already visited.
And every passing hour the map showed that Santa was getting closer and closer to our house.
By the time it came for bed that night Aubree was wound up tighter than a spring. She was filled with hope and anticipation and light. If she had any doubts about Santa at all she surely didn't show them.
As I began my fatherly duties that night, walking in my bare feet to the back of the car with all the other dads in our apartment complex equally engaged, I was anxious and excited too. The effort had worked and we had a most memorable Christmas.
By the following Christmas Aubree had a little sister. And she demanded of Ernest to begin the updates as soon as possible.
Little did I suspect they would become a tradition. But during this second Christmas season Aubree went from a Santa-doubter to a Santa-promoter.
She took her updates to school and showed them to her friends. She passed them around at family gatherings. Before we knew it, we had requests coming from all over to be added to the fax distribution list. By the time Christmas rolled around, the faxes were going out to over 70 people.
The next season, it got downright costly.
Faxing that many updates, especially to a few international locations, was too much for me to handle. We started to look for another way to do it.
Being a computer geek it was not hard to want to take it online. I was one of the first real pioneers online in 1989 -- at least as a consumer.
I possessed no technical skills myself but I was quick to embrace the cool factor of the Internet. Back when less than 100,000 people worldwide were online I registered the domain name Merry Holidays.com and put the Updates from the North Pole there.
The rest, as they say, is history.
Just as things snowballed with the faxed updates over the years the online updates have proven just as popular.
Our merry little web site was very popular at Christmas time. But it lay dormant the rest of the year. One spring day I got an offer to sell the name Merry Holidays and I accepted it, hoping to recover at least a little of the expense we put out on the effort. I then re-registered under a new site name, My Merry Christmas -- and this is where we have been ever since.
The great community of the Internet has always responded well to our holiday offerings. As time has passed, folks would email in their own experiences or ask questions. Over time, we built My Merry Christmas into one of the largest libraries on Christmas information online.
Aubree is an adult now. She is the eldest of our seven children. And she helps now to coordinate the efforts of Elf Ernest in our home.
It should come as no surprise, really. After all, the name Aubree means "ruler of elves".
A year or two ago, as we were preparing for the season by untangling a wad of Christmas lights to put on our house, I shared a tender moment with my eldest daughter as she confessed to me that her favorite time of year was at Christmas.
In the ensuing years, as each of our children have grown, My Merry Christmas has been central to our celebration of season.
As the library of Christmas information has been built we have made friends from all over the world. Writers, artists, programmers, and talented folks from all over have helped build this site to what it is. Contributions have rolled in all in the name of Christmas and building a safe, friendly and heartwarming community of like-minded folks online.
In 2004 we installed forums on My Merry Christmas and this spirit of volunterrism and Christmas continued to take over the site completely.
From the wellspring of support we have added a year round Christmas radio station -- staffed entirely by our site members. We maintain the world's largest and longest running Christmas e-newsletter, the
World's Largest Directory of Christmas links
, we publish and broadcast the world's only year-round
Christmas Podcast
with thousands of dedicated listeners.
We operate a Christmas Card exchange where our members send cards to each other, from all over the world. In a world where Christmas cards have become passe our members continue to receive them by the hundreds from each other! We also exchange Christmas ornaments in a similar fashion.
In addition, we have developed more than 35 other websites dedicated to various aspects of the holidays.
We have been joined in this
merry network
of websites by Christmas specialty webmasters from all over the world -- each bringing their own expertise and perspective to the Christmas community centered right here.
Together we all work -- er, play -- Christmas year round. Together. No matter what one believes, who they are, or where they come from they can celebrate Christmas right here on the World's largest Christmas community and the Internet's Longest ongoing celebration of Christmas.
And to think it all happened because of one five year old little girl have a little difficulty believing in Santa.