By Jeff Westover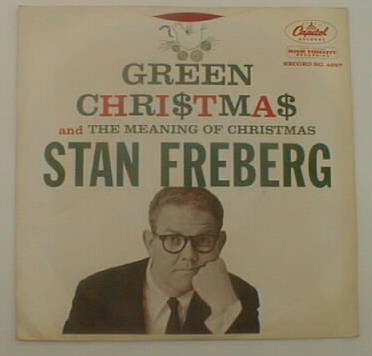 No Christmas recording collection can be without it. Stan Freberg's Green Chri$tma$ is a holiday staple for generations of Christmas fans, beloved not only for the searing truth of it's message but also for the quality of it's music.
Long before the hotly debated war on Christmas, predating just about any civic debate over public Nativity displays or church and state arguments -- even before the term "political correctness" was coined -- Stan Freberg produced a work satirizing the advertising world's exploitation of Christmas. It was an instant hit and a controversial thorn in the side of Freberg's record producers and Madison Avenue. The year was 1958.
Stan Freberg was by that point a radio superstar. First appearing on radio in the mid-1940s with Jack Benny and the Armed Services Radio Network, Freberg was signed by Capitol Records in 1951 and produced parodies of pop culture's most brilliant stars of the 1950s including Elvis Presley, Cole Porter, Johnnie Ray, Lawrence Welk and Harry Belafonte. Freberg's work -- labeled as comedy by some, satire and social commentary by others -- was brilliantly produced and often charted as high as the hits he parodied.
Green Chri$tma$ used the familiar story line of Dickens' A Christmas Carol as the backdrop for a conversation between Mr. Scrooge, an advertising executive and Bob Crachit, a humble small business owner compelled to keep the season sacred. Set to music brilliantly scored by Billy May, the story is told through mock-commercials for everything from cigarettes to beer by advertisers who use Christmas carols and icons because "Christmas can be such a monetary joy".
"Do I have to tie my product into Christmas?" Crachit asks. "Christmas has a significance, a meaning!"
"A sales curve!" Mr. Scrooge responds. "Christmas has two s's in it and they're both dollar signs!"
"I listen to that now, and it's like I did it last week. I'm amazed that it holds up all these years." Freberg says. "The interesting thing is that after that record, both Coca-Cola and Marlboro came to me to do ad campaigns. And this is after the president of Capitol, Lloyd Dunn, said, 'Well, I'll tell you one thing, Freberg. You'll never work in the advertising business again.' I was just getting started in the field."
Ironically, Green Chri$tma$ may have marked the turning point in Freberg's career as he shifted his professional focus from radio in the late 1950s to advertising in the 1960s. Freberg went on to a storied career in advertising winning numerous awards and accolades for humor in advertising.
Green Chri$tma$ resonated with listeners but rankled advertisers on Freberg's show. "This record, of course was an attack on the over commercialization of Christmas.," Freberg says. "And when it first came out some sponsors refused to pay for any of their commercials that were programmed within five minutes of my record being played. They felt that my record negated their commercials." So critical was the business of radio and advertising that Green Chri$tma$ received no commercial airplay prior to 1983.
While Freberg is hailed as visionary for his biting brand of satire skewering everything from pop culture to the history of the United States of America it is Green Chri$tma$ that brings out a funny and sad reminder of how twisted we have allowed Christmas to become.