By Jeanette DiCamillo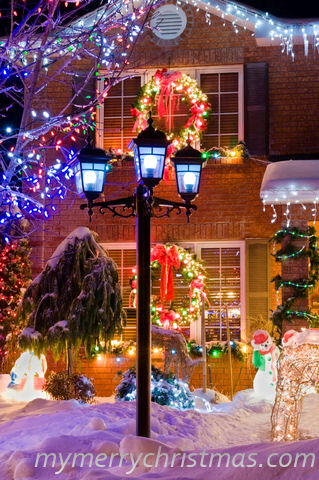 No matter where you look during the season, artificial Christmas wreaths adorn every door, window, and lamp post. Christmas wreaths are one of the most popular decoration items for Christmas as they work well with other greenery decorations like garland. On top of that, they can match the Christmas tree and tie a whole design theme together indoors and out.
Christmas wreaths and garland are available in many different types. Prelit greenery is available, as well as unlit for those who want to customize their greenery, or prefer to leave the lights for the tree. Pre-decorative wreaths and garland often include pinecones, berries, glitter and picks, and flocked or frosted greenery gives the illusion of snow.
Measuring for Wreaths and Garland:
To decorate with greenery, first choose where to place it. Greenery is most commonly used on doors, windows, columns, and fence line. Once you choose your placement, decide what size wreath or garland is appropriate for that space. Measure the area where you want to hang the wreath or garland and choose greenery based on that size.
For doors, windows, and mantels, choose a wreath slightly smaller than your area measurement. A wreath too large will overwhelm the area. For columns and posts, choose a wreath slightly larger than your area measurement. A larger wreath, in this case, helps to accentuate the area.
When decorating with garland, ensure at least twice the length of your measurement. Make sure you choose a garland the right thickness for the area. Too thick could be overwhelming, while too thin might be lost. Thick garland is great for use outdoors, and thin garland is desirable if wrapping a bannister.
Hanging Christmas Greenery:
There are many options for hanging wreaths and garland, including traditional over the door wreath hangers, as well as garland hangers that secure within door frames. Zip ties are an ideal choice in many applications, and hooks and clips can be found to prevent any nails from needing to be used. Even brick clips are available. Premium grades of garland typically include hooks at eash end, which allows for each piece of garland to connect to the next.
Decorating With Bows
A red velvet bow makes the perfect finishing touch to any Christmas wreath. To best choose a bow, calculate half the size of the wreath and that will provide the ideal width of the bow. For example, a 30" wreath needs approximately a 15" bow, so choose a bow that is anywhere from 14" to 16" wide.
Flocking greenery is possible with snow in a can, though the flocking may wear off over time. For a more permanant snowy look, purchase wreaths and garland strings that have been flocked by the manufacturers. Adding decorative touches to Christmas greenery adds personalization, and gives a sense of tradition. Possible ideas include poinsettias, berries, flowers, small ornaments, fairy lights, and twigs. These can all be intertwined within the needles, or secured with a dab of hot glue.
Christmas decorations are completed with Christmas wreaths and garland. Whether unlit, prelit, flocked or decorated, greenery offers a unique touch to any area that pulls a Christmas design together. Decorate with artificial Christmas wreaths and garland to pull together your winter wonderland.