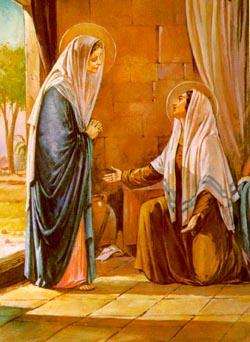 By Jeff Westover
As receivers of heavenly messengers, Mary and Elisabeth had much in common. As faithful students of the scriptures, their shared condition meant the literal fulfillment of prophecy. While society shut them out, together they found support and love as their babies grew closer to maturity.
For Elisabeth, birth brought forth more miracles. The fact that she had hid her condition made the birth of John a very public miracle indeed. As they prepared to circumcise the baby -- a somewhat public event attended by "her neighbors and her cousins" -- there was some debate over the name of the baby.
The family, the neighbors and those who did not know the full miracle of this birth wanted to follow tradition and name the baby after his father, Zacharias. Elisabeth emphatically answered that his name was to be John.
When the protests grew louder because there was no one on either side of the family who had that name in their history it was Zacharias -- still mute -- who settled the debate. He asked for something to write with and indicated the baby's name was to be John, much to the amazement of those gathered for they supposed that he was not only mute but also deaf.
As they marveled, Zacharias' tongue was finally loosed. And he spoke enthusiastically of the miracle placed before them all:
"What manner of child shall this be!...Blessed be the Lord God of Israel; for he hath visited and redeemed his people...As he spake by the mouth of his holy prophets, which have been since the world began...to perform the mercy promised to our fathers...The oath which he sware to our father Abraham...And thou, child, shalt be called the prophet of the Highest: for thou shalt go before the face of the Lord to prepare his ways."
While Mary stayed with Elisabeth for three months we do not know for sure if she was a witness to the outpouring of joy and testimony at the birth of John. But if she was not there in person she certainly would have heard about it as the events of the Zacharias household became famous.
~ Mary Confronts Joseph ~
While Mary no doubt rejoiced at Elisabeth's delivery, she had to face the consequences of someone in her condition. And as expected, a clearly pregnant Mary who had been gone from Joseph for many months, was not received positively upon her return. How Joseph handled the situation was not only delicate for Mary but also politically sensitive for himself. His feelings ran deep and strong. But he had to find a way to measure his public reaction while dealing with his private angst.
To abide her condition would be to condone unclean and impure practices. A man of his faith simply could not compromise and remain respected within society by accepting Mary in marriage. But to simply cast her aside would be cruel and betray the clear feelings he had for her. Leaving her would also run counter to the doctrines of compassion his faith clearly taught.
The fact of the matter is that Joseph was in love with Mary. Classic artwork depicts Joseph in many circumstances as a mature man. But this is a misconception. He was likely only slightly older than Mary at most. His entire future lay before him. He was consumed not only with thoughts of marriage and family but also of career and temporal survival. All of that became very complicated with this new situation of Mary's expectant state. No matter what Joseph did, in his mind, there were serious and far reaching consequences. Everything had changed with this development and clearly he was unprepared to deal with the dilemma. It was with these thoughts he struggled when he beheld a vision from an angel, too.
Like Zacharias, Joseph was a man of deep feeling and clearly had spiritual depth . His standing and upbringing was steeped in religious tradition. He knew well of angels and revelation and prophecy. Though he lacked Zacharias' years of experience and training, he was not unfamiliar with the great prophecies of the coming Messiah. But unlike Zacharias, who expressed wonder and fear at the sight of an angel, Joseph was too troubled at heart concerning his circumstance to awed by an angel.
But what must he have felt as this angel explained the nature of Mary's calling and his particular part in it? How did it change the way he felt about Mary? And how did it change the way he felt about himself?
We can take from the words of the angel some of what Joseph was feeling. For he said "fear not to take unto thee Mary thy wife". But given his convictions-- and given his suddenly impending responsibility as both a husband and a stepfather-- there surely must have been many great concerns beyond what the scripture tells us.
We fail to think of Joseph much at Christmas. We tend to think of him as an escort to Bethlehem and a witness to the birth. He is largely forgotten in retelling the tale even though he was instrumental in bringing it to pass. Sacred as the role of Mary was, we must not discount the importance of Joseph in the story. Jesus was the Son of God and would be schooled in the works of God. But Jesus was also a man in the flesh, and who would school him to be a man? This role, as stepfathers before and since, was fulfilled by Joseph the Carpenter.
Once Joseph awoke from his heavenly sleep and realized his part in the drama of Christmas we can only speculate what transpired between him and Mary. What did they say? Were they scared? Were they happy? How did it all change the feelings they shared about each other?
The scriptures are silent on these points. Like Zacharias and Elisabeth, Joseph and Mary were a righteous couple. And as the story continues they remained faithful to the mission they were called.
The scriptures record of Joseph's efforts to take care of every detail. He faithfully remained by Mary's side and attended to every critical need. In response to an imposed tax , Joseph and Mary both traveled to Bethlehem, their ancestral village, as was the custom of the time. It was there that history would be made, that angels would mingle with mortals in announcing and rejoicing at the great event. For Mary and Joseph, there were physical hurdles to overcome and the natural anxiety of a first-time birth to deal with. Christmas was upon them. Their lives had already changed forever. And it was about to change again.