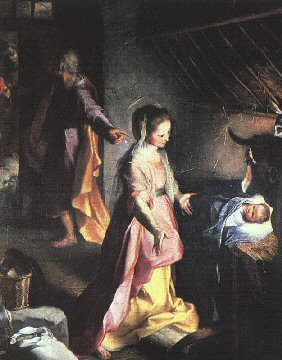 By Jeff Westover
It is the story of two babies.
These two babies are uniquely tied to the events that transpired before the creation of the world. This story is known by many simply as The Christmas Story.
But this story is often over romanticized and watered down with critical details missing. The story of the Nativity is often related with strict emphasis on Deity. Important as that is, it is the humanity of the story that makes it such a compelling part of yearly Christmas observance.
The central players in the Christmas story -- Mary, Joseph, the Wise Men, Zacharias, Elisabeth and, of course, the shepherds -- give to any Christmas celebrant reason to ponder over the very meaning of the season.
These people were witnesses to great miracles. They were the characters seen in vision by the ancient prophets. They played critical parts in acting out a story foretold for generations before they were born and honored in history long after they died.
In their own right most of the cast of characters in the story were spiritually refined. Though human in every respect they had to overcome their circumstances to bring about a great and precious work. They were faithful. They were devoted to God. Their expressed feelings of excitement, wonder, faith, fear, anticipation, joyful exhilaration and gratitude speak to us even in our generation more than 2000 years later.
They were everyday people living in extraordinary circumstances.
Before experiencing the miracles of the Nativity they lived very normal lives. Mary and Joseph were filled with hope for the future and a family together. They were a young couple in love -- respected in their community for their family reputation, humble in their material circumstances and devoted to their faith. They were what most of us have been at one point in our lives: ambitious, forward-looking and hard working.
Contrasting their situation was Zacharias and Elisabeth, an elderly, childless couple facing the twilight of their lives. Zacharias was a high priest. He was respected as an honorable man. His devoted wife was his faithful foundation, no doubt having a significant influence upon his stability and standing in the community. They were accomplished and established. Though blessed in their circumstances and popular with their friends and neighbors, an overwhelming sadness ruled their lives because they had failed to conceive a child in their marriage.
No doubt, all of these people in the story had troubles. They were part of an oppressed society, ruled over by foreign powers who did not share their spiritual inclinations. It could be a hostile and cruel existence. Even amongst themselves they endured typical life issues as matters of large spiritual consequence were debated. The existence of God and the history of heavenly manifestations was known through the scriptures but their most recent generations had not known Old Testament-style revelation. This created divisions amongst the faithful on matters of doctrine and belief in contact between those in this world and the next. They were far from united in the belief in angels, revelation and a communicative God.
The Christmas story begins with Zacharias and Elisabeth. They were known and numbered amongst the faithful, "...walking in all the commandments and ordinances of the Lord blameless.", according to the scriptures.
Zacharias was a presiding high priest. This made him not only a man of distinction but also a man learned in the scriptures. He knew the story of man's pre-mortal experience. He knew the identity of the Messiah and the promise that he would be born in the flesh.
But Zacharias was an old man -- a man who felt his time had come and gone. He felt that miracles had passed him by. His dear wife Elisabeth had waited all those many years to bear Zacharias a child. But she was barren and this fact grieved them both.
They could not have known nor anticipated the coming of an angel who carried to them absolutely stunning news. Zacharias was in the temple at the altar of incense when the angel appeared to him.
"Fear not, Zacharias -- for thy prayer is heard: and thy wife Elisabeth shall bear thee a son, and thou shalt call his name John."
As Zacharias knelt and looked down at his aged hands, his mind racing, what do you suppose was he feeling? For generations his people had suffered. For generations they had gathered in their temples, with men such as Zacharias presiding, as scriptures were read and the promise of a Messiah was renewed again and again. What exactly he was praying for the scriptures do not say. But his surprise at having received such a dramatic answer is certainly understandable.
"These things," he might have thought, "do not happen to old men like me."
The angel spoke words Zacharias could clearly understand from his knowledge of the scriptures. This coming son of Zacharias would not only be a miracle to him and Elisabeth -- he would be great in the eyes of all who shared a knowledge of the scriptures:
"...he shall be great in the sight of the Lord...filled with the Holy Ghost, even from his mother's womb...And many of the children of Israel shall he turn to the Lord their God. And he shall go forth before him in the spirit and power of Elias..."
Zacharias knew this son of his already. He had known from the study of the scriptures that a mighty and great prophet would prepare the way of the Christ. But Zacharias could not get over the fact that this great miracle could include him and Elisabeth. In a way, he asked the angel Gabriel: "Are you sure?"
"...I am an old man, and my wife well stricken in years."
It is hard to speculate on the thoughts of an angel. But Gabriel had come from the very presence of God. He had news of great importance. Perhaps Zacharias' human response was not what Gabriel was expecting. Or perhaps it was exactly what he was expecting.
Either way, Gabriel made it known that no matter when Zacharias came around to the new reality he was facing, he would not be able to articulate the facts to anyone else -- at least for a season:
"And, behold, thou shalt be dumb, and not able to speak, until the day that these things shall be performed, because thou believest not my words..."
And thus begins the Christmas story -- with a miracle. Just as Moses is recorded in the scriptures as having talked with God face to face the heavens once again, in a new generation, were opened. Prayer and revelation announced the miracle anew. The page of Christmas history was turning from the predicted and prophesied to reality in the flesh. And Zacharias was not the only one who was unprepared and caught up in the wonder of it all. Lives were about to change for many people. A major global event was about to transpire.