A Forgotten Classic: "The Christmas Angel" by Abbie Farwell Brown
---
"The Christmas Angel" by Abbie Farwell Brown
This little book is a forgotten gem of Christmas literature. When it was published in 1910,
Living Age
magazine reviewed the book by saying, "Not since Charles Dickens laid down his pen forever has there been a prettier Christmas story written, one more full of the real spirit of Christmas or conveying a more seasonable lesson." High praise, but well deserved.
When you first begin to read the story, you may believe that you...
[Read More]
A Christmas Tree for Cats
---
Contributed by LoiS-sez
Note
:
Helen Hunt Jackson is a 19th century author is best known for Ramona, but her other writing often included cats including this lovely tale written in 1876.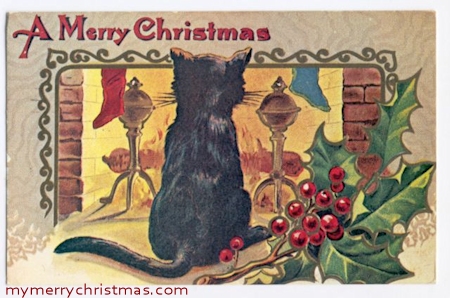 When I was a little girl, I knew two old maids who were so jolly and nice that I am always ready, beforehand, to love anybody who is called an old maid. To be sure I have never yet seen any others in the least like them and I begin to be afraid that that particular kind of old maid has d...
[Read More]