A Miraculous Movie
---
By Stephen Schochet
It was originally called The Big Heart. Daryl Zanuck the shrewd head of Twentieth Century Fox couldn't buy the image of Santa Claus in a court room. But like so many ventures Miracle On 34th Street (1947) came about because of passion, in this case that of Director George Seaton who had gone to New York on his own and made arrangements with the real Mr. Macy and Mr. Gimbel to film inside their department stores. Impressed by Seaton's commitment Zanuck gave the show a g...
[Read More]
A Christmas Story (Movie Review)
---
By Brian Stewart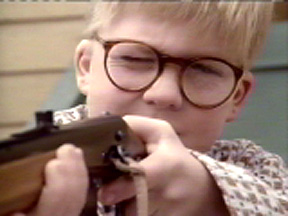 In 1983, Bob Clark directed two movies: A Christmas Story, which details the adventures of a ten year old boy trying to secure his dream Christmas present, and Porky's II: The Next Day, which serves as a sequel to Porky's, Clark's teenage sex romp released two years before.
While I do not mean to tie the sweet and certainly child friendly A Christmas Story to near-pornography, I do wish to point out the adult sensibility that exists just below its surface and all...
[Read More]