It's a Wonderful Movie
---
By Stephen Schochet
Its A Wonderful Life (1946) began as a short story called "The Greatest Gift". Writer Philip Van Doren Stern was unable to sell it to a publisher, so he sent the tale out as a long Christmas card to friends. His agent subsequently sold the fable to RKO pictures, where it went through several transformations.
In one version a losing political candidate contemplated suicide, only to have an angel convince him to stick around and do good works. Finally it...
[Read More]
It's a Wonderful Life (Movie Review)
---
By Brian Stewart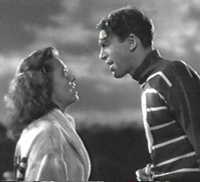 The trouble with reviewing a movie like Its a Wonderful Life arises from the difficulty of separating the film from the tradition that has built up around it. For example, my first viewing came one Christmas Eve when my aunt and grandmother pressed me into service as a babysitter for my younger cousins so they could go to midnight mass and I ended up watching a late night Spanish language showing of the movie. How can I possibly give a film a fair review after such an...
[Read More]