By Brian Stewart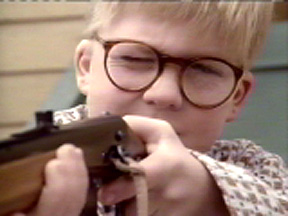 In 1983, Bob Clark directed two movies: A Christmas Story, which details the adventures of a ten year old boy trying to secure his dream Christmas present, and Porky's II: The Next Day, which serves as a sequel to Porky's, Clark's teenage sex romp released two years before.
While I do not mean to tie the sweet and certainly child friendly A Christmas Story to near-pornography, I do wish to point out the adult sensibility that exists just below its surface and allows every audience member, no matter what their age, to enjoy it equally.
A Christmas Story follows the adventures of Ralphie, a middle class kid in 1940's Indiana who wants nothing more for Christmas than an official Red Ryder, two hundred shot, carbine action, range model air rifle. But to get it, he must overcome a cavalcade of detractors including his mother, his teacher and even Santa Claus, who, in response to his stated holiday wish, says, without exception, "you'll shoot your eye out." Along the way, he slays the school bully, participates in goading his friend into sticking his tongue to a flag pole, witnesses his father burying a lamp and watches helplessly as the neighbor's dogs consume the family's Christmas turkey.
This movie is not sultry or borderline profane like Porky's, but the two films share a certain corporeality, a certain shared belief that the events of the world, Christmas included, are created by humans, and that humans are sometimes distinctly crazy creatures. Look at these snippets of dialogue and see if you don't agree:
"Some men are Baptists, others Catholics. My father was an Oldsmobile man."
"Only one thing in the world could have dragged me away from the soft glow of electric sex gleaming in the window…'Kids, its Little Orphan Annie time!'"
"In the heat of battle, my father wove a tapestry of obscenity that as far as we know is still hanging in space over Lake Michigan."
Unlike most other holiday entertainments, this movie seems to remember that Christmas happens in the physical world and the details of Ralphie's adventures illustrate a belief that Christmas is a holiday organized by humans, not for them. Like bittersweet Christmas carols such as "Have Yourself a Merry Little Christmas" or John Lennon's "Merry Xmas", A Christmas Story derives its enjoyment from the counterpoint of the idealistic image of "peace on earth and good will towards man" with the somewhat imperfect practicalities of spending the holidays amidst other people. Also, it is funny as hell. And above all else, A Christmas Story remembers that for most kids, Christmas is about presents, with the importance good will, Jesus and even family coming well behind.
Told from a kid's point of view, with Ralphie mostly cast in the role of barely comprehending observer, the movie swims in innocence just off the shore of adult complexity. Never is there any sex or real swearing because Ralphie's world, that of a child, has yet to incorporate them, but the viewer can sense that these things exist in the adult world that encircles Ralphie's. A Christmas Story is a nostalgic film, told by a knowing adult who is trying to remember the simpler existence of his childhood.