By Edward M. Eveld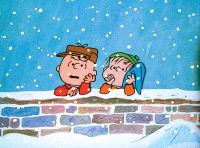 The plot is thin. The pace is slow. The music is decidedly not rock 'n' roll. But A Charlie Brown Christmas is a beloved piece of Americana, despite its flaws and idiosyncrasies, or maybe because of them. There's reason to consider this cultural icon now because — are you sitting down? — the animated TV special turns 40 this year.
That's right, it was 40 years ago that Charlie Brown first decried the commercialization of Christmas. Forty years ago he placed a single red ball on his sorry but real Christmas tree and lamented, "I've killed it!"
In a bit of irony the folks in charge of all things Peanuts are trotting out new stuff they want you to buy to commemorate the 40th, including a plastic rendition of a spindly Charlie Brown tree available at Urban Outfitters for $24.
Many fans will forgive them the excess.
When the show airs Tuesday on ABC, you can bet Jon Yaeger, 26, will be watching. A singer/songwriter whose own music is more rock 'n' roll, Yaeger remembers getting hooked on the show's Vince Guaraldi jazzy score when he was 10 years old. Plus, the nostalgia of growing up with the show keeps him coming back.
With video, of course, fans aren't limited to one viewing. "I watched it like four times last year," Yaeger said.
And you can feel the smile in Pauline Graeber's reverie as she thinks about the show: "To see Charlie Brown come back with that pitiful little tree and say he can't do anything right, and then there's Snoopy decorating his house and winning first place ... "
Graeber, of Leavenworth, Kan., probably has one of the biggest collections of Peanuts music boxes in the country — 550. She recalled meeting Charles Schulz in 1989 at Beaglefest, a gathering of collectors, in California. Schulz told the collectors about the show's foibles, how at the time he and the other creators figured it was doomed.
Schulz died in 2000.
"We thought we had destroyed Peanuts," said Lee Mendelson, executive producer of the show, in a recent interview. "It just didn't work. And the network didn't like it. It was too slow; we had used kids' voices and that jazz music."
When he first saw the show, Mendelson immediately thought the opening weak because of the instrumental music, which wasn't exactly joyful. Mendelson figured lyrics might help, and he came up with Christmas Time Is Here. Over the years Guaraldi's tune with Mendelson's lyrics grew into a holiday standard.
So why the Guaraldi score — a contemporary jazz sound — in the era of rock 'n' roll? Mendelson had used Guaraldi's music for a 1963 documentary on Schulz and liked it. Guaraldi's instrumental song Cast Your Fate to the Wind won a Grammy in 1963.
Mendelson credits Schulz for the success of the show.
"It was a hit because of the morals and humor of a great Midwestern guy," Mendelson said about Schulz, who grew up in Minnesota.
The show's anti-mercantile theme continues to resonate, including the discussion about the true meaning of Christmas. In the show it's Linus who moves center stage, blanket in tow, and recites the account of Jesus' birth from the Gospel of Luke.
"It's the whole denouement," Mendelson said. "It's totally unexpected. It was probably the first animated scene of someone reading out of the Bible. That was Schulz's Midwestern roots."
No doubt the humor in the admittedly sluggish storyline and the peculiarities of Schulz's characters are big factors in the show's continued popularity, said Derrick Bang, the entertainment editor of the Davis Enterprise in California and author of three Peanuts-related books. His latest, It's Only a Game, is a collection of single-panel cartoons by Schulz from the 1950s.
Scenes from the show and Peanuts gags are cultural mainstays: Lucy in the psychiatry booth, Sally radiating hearts for Linus, Lucy trying desperately to get Schroeder to notice her noticing him.
"I watch the show every year and still chuckle when Charlie Brown and Linus are on the Christmas tree lot," Bang said. "They rap on the aluminum Christmas tree and it goes, 'clunk, clunk.' It's a sociological statement people can relate to."
The music undeniably became a draw, Bang said, and the CD sells extremely well every year. Guaraldi, who died at 47 in 1976, was a genius at the instrumental hook, he said.
And Bang agreed with Mendelson that the Linus spotlight scene clinched it. Bang said the comic strip had gentle theologic content but was never preachy. In the Christmas special, too, Schulz wasn't sermonizing.
"That was the meat," Bang said. "I truly believe the special was a convergence of many happy events."
The special received an Emmy for best network animated special of 1965. Its popularity remains strong. Last December, TV Guide named the show "Best Christmas Special," and its airing by ABC drew an audience of 13 million.
Here's a heads up for next year, when another animated classic turns 40. It's the Great Pumpkin, Charlie Brown first aired Oct. 27, 1966.