By Jeff Westover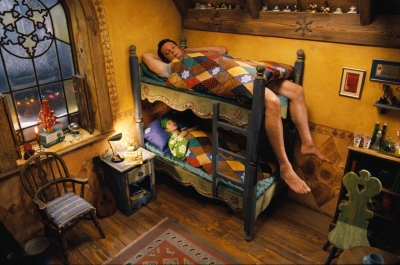 Who knew that Santa Claus had a brother? Who knew that Santa answers to a board of directors and could be fired at any time? Who knew that not only does Santa live forever -- but so does his mother?
These are just some of the surprises coming from Fred Claus, the 2007 Warner Brother release starring Vince Vaughn in the lead role of Fred, Santa's jealous, bitter and less-than-nice older brother. Fred's life changes as a young boy when his little brother Nicholas is born. Emerging from the womb saying "Ho-ho-ho!", Nick is a golden child adored of his parents due to his unselfish and perfect nature. "Why can't you be more like your brother?" predictably rings in young Fred's ears throughout this convoluted tale.
In rushed sequence Fred and Nick grow up and are then frozen in time -- along with their entire family --- as Nick inexplicably becomes a saint and goes on to his worldwide fame as The Big Guy. But, we are reminded, this story is about Fred, not Nicholas, who is portrayed ably by Paul Giamatti.
Fred is a repo man whose yearly reminder of his brother's greatness only adds to his desire to become great himself. Fred actually has a heart of gold like his brother but his desire to excel is only exceeded by his inability to get there by cutting corners and bending the rules. Fred is a path-of-least-resistence kind of guy whose get rich quick schemes quickly land him in trouble and he ends up in jail. Forced to call his baby brother to get bailed out Fred Claus agrees to come work at the North Pole for a season to straighten himself out.
On the surface, that fairly simple premise should be enough to create a lasting holiday classic. With Vaughn and Giamatti anchoring the leads supported by acting greats Kathy Bates and Kevin Spacey hope is given that perhaps an entertaining time could be had by all.
This movie, however, combines too many problematic elements to make it funny or memorable. In fact, seeing it in a crowded theater on opening night, it dawned on me that the marketing of the film had drawn a wide demographic and none of them were laughing. In the end, what should have had broad appeal ended up satisfying no one.
The North Pole is displayed with warmth and all the glitter and lights a kid would expect. But against that magical backdrop kids are exposed to conversations of Santa's problems in bed, Fred's dark, holly-in-the-heart hatred of his mother, the head of rapper Ludicris super-imposed upon the body of a midget and one elf's lust for another. This movie isn't for kids.
Hopeful comedic moments do tease adults. Fred's group therapy session at "Siblings Anonymous" featuring Roger Clinton, Frank Stallone and Stephen Baldwin momentarily draws a chuckle.
But overall it tries too hard to be too much and as a result falls short in nearly every way. Vaughn feels oddly out of place at times and undecided as to whether he's naughty or nice. He appears bored and restricted.
Fred Claus wants to be a combination of Elf, Bad Santa, The Polar Express and Jingle All the Way. In one respect the production is a combination of those four movies -- the worst parts of them. Your Christmas will be better served avoid this unfunny, pointless and depressing holiday story that denegrates not only Christmas but the sacred dignity of Santa Claus.