By Brian Stewart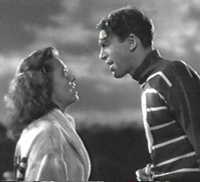 The trouble with reviewing a movie like Its a Wonderful Life arises from the difficulty of separating the film from the tradition that has built up around it. For example, my first viewing came one Christmas Eve when my aunt and grandmother pressed me into service as a babysitter for my younger cousins so they could go to midnight mass and I ended up watching a late night Spanish language showing of the movie. How can I possibly give a film a fair review after such an initiation as that?
Personally, I think it is impossible, but I think it is equally impossible for anyone else. Everyone has a memory related to this film and, as such, would, in good conscience, have to excuse themselves from an objective critical appraisal. With no better candidates for the job, then, I will therefore press on.
Its a Wonderful Life turns on one of the most clever plot devices in movie history (and I know it is clever because television writers are continually stealing it. I can think of rip-offs coming from such diverse shows as Dallas and the Saturday morning cartoon, 'The Adventures of Ed Grimly').
George Bailey (Jimmy Stewart), prominent and popular citizen of Bedford Falls, is despondent over his loss of $8000 and contemplates suicide. His guardian angel, Clarence (Henry Travers), who needs to save George in order "to get his wings," shows him what the town would be like if he had never been born.
This is a superb idea for a movie. The only problem being that in order for it to pay off --that is, in order for us to understand what life would have been like in George's absence -- we must first witness the impact he has had on the citizenry of Bedford Falls. This constitutes the largest portion of the film and while it does have its share of likable scenes, George courting his future wife (Donna Reed) is particularly sweet, this setup is nonetheless vaguely boring, and audience interest is only really sustained by Jimmy Stewart's always likable presence.
When I hear that originally Its A Wonderful Life didn't perform well at the box office and only truly found its niche in television rebroadcasts, I can understand why. I think proper enjoyment of the film depends on a familiarity of the characters and the lesser demands of focus facilitated by television. In a theatre, I think the climax, engaging and clever as it might be, might come too late to silence the yawning and impatient toe tapping of the viewers. But at home, watching with a group of people, an audience can amuse itself with conversation through the earlier sections and then quiet down and enjoy the classic ending for all its worth. I think it helps define both the virtues and the flaws of this film to note that I felt the same emotional reaction to it the first time I saw it, in a language for which my working vocabulary is about five words, as each subsequent English viewing.
One final statement about the charming nostalgia this film contains. At the end George's daughter, hearing the tinkle of a Christmas bell, says, for seemingly no other reason then to remind us of Clarence's good fortune, "Teacher says every time a bell rings, an angel gets his wings." In today's world, an educator would be fired, sued and possibly spayed for making such a remark, but in the world depicted by the film it is a thoroughly uncontroversial statement. That alone makes this film a likable holiday treat.