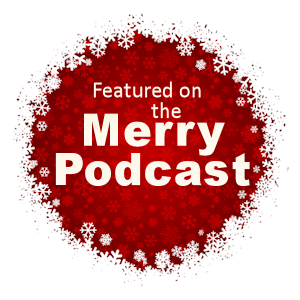 By Jeff Westover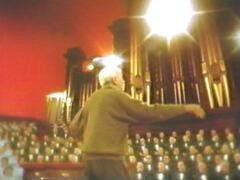 In a 1980 production of a low budget and not-so widely distributed film directed by Academy Award winning director Keith Merrill, Jimmy Stewart gives the holiday performance of a lifetime. Unlike that other Christmas movie starring Stewart nearly forty years previously, this one features neither the predictable sub-plots of good versus evil or the triumph over Christmas disasters.
Stewart plays Willie Krueger, a lonely old man enduring a Christmas alone in his basement apartment with his cat George. We never learn why he is alone and why there is no family about him, save only that he was once married but that his wife has passed on.
We learn that he wants nothing to do with being alone at Christmas. And while the world around him thinks it is better to just ignore him, Willie gets along just fine imagining people and warmth surrounding him whenever he gets to hearing favorite carols sung by the Mormon Tabernacle Choir.
Mr. Krueger's escape is music. Each different Christmas carol conjures up a new image in his mind. Through the music Mr. Krueger is loved, respected and accepted. It paints almost a pathetic picture of this lonely character and causes one to wonder how many folks out there just might be on the verge of perceived madness because fantasy is their only refuge. Other characters in the film treat Mr. Krueger warily and these scenes of him lost in thoughts of better and more hopeful situations almost drives us there too.
Or, so at least we think until Mr. Krueger is visited by a roaming band of Christmas carolers who serenade him on Christmas Eve. Amongst their number is a little girl, who captures the attention of Mr. Krueger in a very subtle role. While their brief encounter in Mr. Krueger's dingy apartment confirms suspicions that others think Mr. Krueger is nuts too, we note his curiosity in a little girl who has strayed from the group to look upon Mr. Krueger's nativity decorations.
Their connection and the relief that the viewer experiences comes from a powerful scene in which Mr. Krueger is carried away in thought by music while looking upon the nativity scene rearranged by his small visitor. Mr. Krueger finds himself at the stable where Mary and Joseph stayed that night more than 2000 years ago and next to the manger holding the baby Jesus. There, in his bumbling and halting way, Mr. Krueger/James Stewart pours out his heart in thanks and tears. The scene fills the viewer with every emotion and even causes one to wonder if Mr. Stewart is playing a character or merely himself.
The film is short, less than half an hour, but its impact never fails to be felt. Availability in video stores or online may prove this to be a difficult title to obtain unless you know someone who is a member of the Church of Jesus Christ of Latter-day Saints (Mormons), who produced the film.
Jimmy Stewart once said that directing the choir fulfilled a life-long dream. We're grateful to be able to share in his delightful dream year in and year out.