By B. Francis Morlan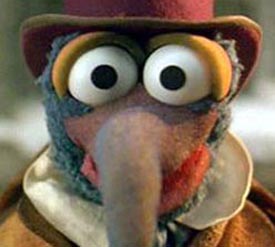 The Muppet franchise bit off a big project by taking on Dickens. For some, perhaps pushing a Bob Cratchett played by a frog may have been too much with the Muppet's version of A Christmas Carol. But for others the Muppet's unique humor helps to offset a story that some take far too seriously at Christmastime anyway. As is the Muppet tradition, this movie doesn't take itself too seriously at all.
And that may be precisely why this 1992 production has had such staying power as a holiday classic.
Michael Caine -- yes, that Michael Caine -- takes on the role of Ebeneezer Scrooge. Unlike Patrick Stewart, who played Scrooge too bitterly, Caine brings just enough harshness to the role. And unlike George C. Scott, Caine's role shows genuine redemption in the crowning moments of the film. Alas, Michael Caine did prove that he can't sing but Scrooge was never intended to be the singing type anyway (with all due respect to Albert Finney).
The story is told as a story. With Gonzo taking the lead as Charles Dickens the Muppet creators attempt to accomplish what was intended by Dickens in the first place: that the tale is told as a ghost story that is neither frightening nor mysterious. They lightly make their point without wasting too much on the drama of the ghostly visitors to Scrooge.
Miss Piggy and her piglet children provide comic relief and a cheerful holiday score adds festive elements to help younger viewers know that there is a happy ending on the way. The trademark Muppet sight gags and the annoying recurrence of Rizzo the Rat are forgotten with "Bless Us All", a song sung by Tiny Tim, who we are assured "did NOT die".
In all, the Muppet Christmas Carol is a great family diversion during the holiday season and even light holiday fare for adults who aren't afraid to say they enjoy the clean humor, strong production values and inevitable decency that we have come to expect from the Muppets.