By Jeff Westover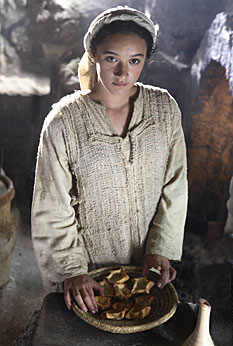 Years ago I wrote an article about the Nativity and in it I mused that this greatest of all stories would make an awesome movie. As 2006's The Nativity Story came to the big screen I received numerous emails suggesting that my movie had been made.
Almost. Not quite -- but almost.
Anticipation of seeing The Nativity Story reminded me of the anxiety I felt in writing that article years ago. This is a beloved story. It is a story with deep personal and spiritual significance. Many people hold the detail of this story sacred. Telling the story, whether in print or on film, is a huge responsibility and a daunting task. I was fearful of a movie that would be devoid of the human emotion attached to the characters in this story. I was afraid of a portrayal of Mary as a saint rather than as a faithful individual. I was afraid I'd see a mere sermon.
Fortunately, The Nativity Story is all about the story. The filmmakers don't spend alot of time crafting a message or preaching a sermon. They have stuck (pardon the pun) religiously close to the scriptures in telling the tale. I find The Nativity Story to be chronologically accurate and most of the dialogue familiar to those who traditionally read the Christmas story straight from the Bible.
The Nativity Story begins with the brief reminder of the slaughter of the innocents -- a tough beginning that underscores not only the oppressed society that Mary, Joseph and the other central characters to the story lived in but it also provides context for the need of a Savior.
King Herod, cravenly portrayed by Ciaran Hinds, is a tyrant in love with his own power and obsessed over losing it. Herod cannot escape nagging reminders of a prophesied Messiah. As he ruthlessly squashes even remotely hinted threats to his rule he leads a lifestyle built on the backs of poor Jewish subjects who recognize Herod for the monster he is.
It is under these societal circumstances that we find Mary and Joseph. Keisha Castle-Hughes, of Whale Rider and Star Wars fame, takes on the beloved role of Mary. Appropriately cast as young, humble and anxious about her future, Castle-Hughes thankfully avoids piousness in her role. Mary is presented as a blossoming young woman facing a cruel existence in a society under bondage. Her background is poor, her family ties are strong, and her religious convictions while dominant in her life are not overbearingly presented.
As we see scenes of Herod's soldiers and tax collectors imposing their will on the people we see the danger of someone in Mary's position. If her father doesn't pay the oppressive taxes imposed by Herod the most valuable of the family's meager possessions are confiscated. In some cases, men would either give or have taken away their older daughters to pay the tax debt. Mary was of age and her family's circumstances put her at risk.
So when Mary's hand is given to Joseph in marriage there is urgency and tension. Mary is appropriately apprehensive and questioning. At the same time you recognize the wisdom of it. Mary's parents are like all decent parents -- concerned, strong willed, and devoted to Mary's safety and well-being. They painfully make a choice for her that she would not have made for herself.
The telling of these most human of emotions is what makes The Nativity Story a compelling work. Joseph is not portrayed as in the ancient paintings. In those he is older, distant and somewhat resigned to a role in the shadows. The Nativity Story gives Joseph his due -- portraying him as an eager and honest young man with genuine love for Mary and for following God.
The conflict between them arises when Mary receives her angelic announcement of her impending motherhood. For as much as Mary was conflicted over her forced engagement to Joseph she is now torn over how to convey this sacred news to both her parents and her intended. When after a long absence she returns to her village in an obvious expectant state we understand very clearly how everyone feels -- and how tragic all points of view are.
It is in this critical moment the filmmakers display their real talents in telling this story. Joseph, raised and devoted to being a man of honor, has the tough choice. If he merely accepts Mary and her child he lives a lie -- an option distateful to him and contrary to his upbringing. If he condemns her she will stand trial and likely be stoned to death. And while his disappointed anguish is real the love he still harbors for Mary is so deep he cannot see to have her meet such an awful fate.
This was the dramatic backdrop for their romance. When circumstances combine to send Joseph to his ancestral home and force him to take a very pregnant Mary with him on a 100-mile trek to Bethlehem we do not see them fall in love -- we see them grow in love. Joseph's devotion is an amazing eye-opener to Mary, who matures with gratitude to know how blessed she is in spite of the difficulty of her circumstances. The trek to Bethlehem is powerful filmmaking -- and moving to see.
A story this sweeping provides plenty of opportunity for Hollywood. Fortunately the filmmakers were discrete in their artistic liberties. While on the road to Bethlehem Mary and Joseph have a chance encounter with a shepherd. Their brief visit takes on powerful signifigance later in the film, adding another powerful human aside to the events unfolding.
These powerful elements allow one to forgive obvious flaws in other parts of the story. The telling of the Wise Men has some unfortunate inaccuracies, the most glaring of which was the fact that the Bible records they did not find Jesus until he was at least two years old. The movie puts them in the presence of Joseph, Mary and Jesus shortly after birth. The script, written by Mike Rich, attempts to inject humor through the roles of the three wise men and it largely fails.
Mary's relationship to Elizabeth is briefly explored and beautifully portrayed. We are left wanting to know more of the dialogue between them. Mary leaves Elizabeth with peace and understanding about her situation but we don't exactly know how that transpires. We do see Elizabeth give birth to John, who seemingly arrived about the size of a 9-month old. (Just a small detail.)
The story of Zacharias and Elizabeth is a lost opportunity in The Nativity Story. Both were portrayed too young. Their compelling love story was their devotion to each other and their faith through a long childless marriage. Zacharias doubted in his vision because he was in the twilight of his life, as was his wife. The vision was not the inexplicable miracle to him -- the message of the vision was. In the film, Zacharias' experience at the altar of incense is confusing. The vision he has is abrupt and the voice he hears is angry and unloving. Zacharias appears to be confounded instead of incredulous. All of this feels contrary to the Biblical account.
Despite these imperfections The Nativity Story is a powerfully moving Christmas experience. Filled with desperation, anxiety, wonder and tenderness, The Nativity Story leaves one pondering and grateful.
The Nativity Story is the first movie in nearly a generation that can truely be called a Christmas classic. This is being written about a week after the theatrical release of the film. Despite a large-scale media campaign and a Vatican launch, The Nativity Story is not inspiring at the box office. But I predict that like It's a Wonderful Life this movie will live and become beloved through years of repeated play through television reruns and home video releases. In my home, it won't be Christmas without it.