By B. Francis Morlan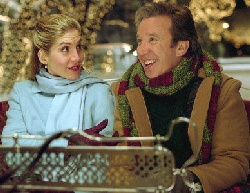 It is a familiar story. For every kid's Christmas wish fulfilled there are just as many, if not more, stories of kids who tear at beautifully wrapped packages in great anticipation only to be disappointed with what is inside. The Santa Clause 2 is much like a white elephant Christmas present. It looked great under the tree, but it was best left unwrapped.
As a general rule, sequels rarely top the original. But when it comes to Christmas sequels especially, disappointment seems to be the best you can expect. We saw it in the Home Alone series. And this second Tim-Allen-as-Santa installment has all the earmarks of a franchise killer for Disney.
The movie is set eight years after the original. Tim Allen has settled nicely into his digs at the North Pole, happily playing chief engineer in a sea of elves who make all the toys for Christmas. The North Pole has certainly grown since we last caught a glimpse of it in the original. Santa's got high tech tracking systems with elves on computers. But, as the movie opens, we must endure a ridiculous sequence where oil exploration aircraft stumble upon a noisy Santa's workshop when all the high-tech wizardry of Tim Allen's Santa can't shut up the #2 Elf, named Curtis.
Several of the original cast are back. Eric Lloyd again plays Charlie, who is now a bitter teen with a chip on his shoulder. Wendy Crewson again plays Charlie's mother, although her diminished role leaves her little to do with the new storyline. And David Krumholtz is back as Elf Bernard, albeit well past puberty now and sporting the shadows of a face frequently in need of a razor. (What's an elf to do, eh?)
Santa finds himself in a fix when one elf informs him that Charlie has landed on the naughty list. Charlie, who lives most of the time with his mother, has been maliciously tagging his school grounds with anti-Christmas graffiti. Just as Santa readies to slip himself back into the role of Scott Calvin, along comes the shattering news that he has just 28 days left to get married -- or lose his contract as Santa Claus.
That premise alone could have made the movie a winner. But, as with all things Disney, that was just not enough. Somewhere in a writer's mind the thought passed that the movie needed more conflict and more spectacular flash. So, in a bit of absurdity written off as more North Pole magic, Santa creates a copy of himself using new technology not yet perfected by the annoying elf #2, Curtis. From that point forward, the movie is filled with obligatory cliches so familiar to films in desperate search of adoring fans.
They didn't need to try so hard. Santa's a winner by himself. And the first movie proved it.
Elizabeth Mitchell plays Tim Allen's eventual love interest. She is introduced as Charlie's tough-as-nails school principal with a heart of ice. After seeing Santa suffer the indignities of a blind date gone bad, it is clear that Scott Calvin has got the hots for her. So, using what little remaining Santa magic at his disposal, he woos her through exploiting her own bitter memories of losing faith in Santa as a child (a tired premise left over from the original that still works).
The original Santa Clause worked because we learned a lot more about Santa, the North Pole and the elves. We got a glimpse into that world -- a world where the bumbling comedy of Tim Allen seems so appropriate and funny. We were touched by seeing adults turned again into children and by seeing Santa shine in overcoming the grating, juvenile tendancies of a selfish Scott Calvin. Seeing is believing, as the original said.
But the sequel abandons that formula. Instead, Santa's twin is evil (of course). He raises a militant toy army (of course) bent on destroying Christmas (of course) and delivering coal to all the naughty children of the world (of course). We even have to endure scenes of coal tumbling down the assembly line of toys in Santa's workshop, overtaking them in a heap of dust and evil cackles. The Evil Santa dons a beret and scraps the red suit for a military style uniform to goose-step around the workshop. Just as every Disney movie needs a dysfunctional single-parent family (Cinderlla, Little Mermaid, Beauty and the Beast, etc), every Disney movie also needs an evil villan.
Gone this time is the magic of the North Pole. Instead, we have reindeer with gas.
The one redeeming quality of the movie is the singular premise not pursued enough -- the Mrs. Clause. Elizabeth Mitchell shows a great transformation from a hard-nosed cynic to a princess who's heart has melted at the hands of an adoring Santa. As the credits roll, we see her far too late as a swinging, singing Mrs. Claus. It was an idea that remained undeveloped through out the film and an opportunity sorely missed.
Disney's original Santa Clause made a surprising $144 million at the box office in 1994. This will likely do twice that, if not more. It is squarely targeted at the teen set with its potty humor and obligatory chase scenes with the evil Santa. It sports a G-rating, perhaps in an attempt to capture a new generation of under age 10 fans and families.
But don't try to waste your kids' time. I took my six year old and my four year old. Both were bored to tears.