Christmas with the Mormon Tabernacle Choir
---
By Jeff Westover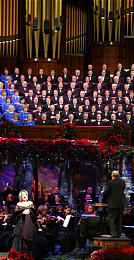 In the eight Christmases we have lived in Salt Lake City our family has experienced an annual tradition that simply cannot be repeated anywhere else in the world. It begins in early November by doing something I absolutely detest: standing in a line in invariably lousy weather for hours at a time and doing it with a smile on my face. The line is for tickets to the annual Christmas concert of the Mormon Tabernacle Choir and Orchestra at Temple Square.
For many out...
[Read More]
Celebrating Christmas in Song
---
By Kathryn Hern
Rosy-cheeked carolers, warming the night air with their joyful voices, are a beloved symbol of the Christmas spirit. Christmas carols have been an important part of the holiday season since they first became popular in 16th century England. A combination of celebratory lyrics and popular folk song melodies, carols were the music of the common people and an expression of defiance against the somber music played in church at the time.
The first carols centered on dancin...
[Read More]