By Jeff Westover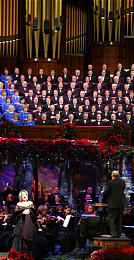 In the eight Christmases we have lived in Salt Lake City our family has experienced an annual tradition that simply cannot be repeated anywhere else in the world. It begins in early November by doing something I absolutely detest: standing in a line in invariably lousy weather for hours at a time and doing it with a smile on my face. The line is for tickets to the annual Christmas concert of the Mormon Tabernacle Choir and Orchestra at Temple Square.
For many outside our community this may sound like no big deal. But for my seven children who do not get many opportunities for world-class culture and who seldom receive appropriate doses of the Christmas spirit away from our own Christmas tree this event for them and for me is Christmas itself. This free event is a magical night we repeat with relish as a staple of our holiday celebrations.
The world-at-large agrees with us. The concerts can be seen live by only about 84,000 people over four performances. This year the tickets for the event were gone in less than two hours -- far faster than tickets for the Rolling Stones who would be performing down the street. Millions more enjoy the concerts via broadcasts on PBS or through recorded DVDs.
Over the years we have enjoyed the talents of Gladys Knight, Frederica von Stade, Bryn Terfel, and Audra McDonald singing with the Choir and Orchestra. We have heard stories of Christmas narrated by Angela Lansbury, Walter Cronkite, Peter Graves, and Roma Downey. This year soprano Renee Fleming and the venerable Claire Bloom lent their talents to the event.
But the star of this show is always the Choir and the Orchestra. Over the years Choir directors Craig Jessop and Mack Wilberg have become superstars in our home. Members of the Choir are uniquely normal: my parents know a Choir member and a neighbor of our own who teaches my children at Church actually plays in the orchestra.
These close-to-home connections shown on the large screens and recorded forever in DVDs help create a great deal of anticipation for these events. Aside from looking for these people at every concert my children, ages 3 to 19, look for other faces in the Choir and Orchestra they have come to recognize: the guy playing french horn who looks like the first President Bush, the short-haired blonde playing flute, the old guy who jingles the bells in the percussion section and the barrel-chested tenor who sometimes solos. Combined -- these superstar neighbors and the greats of stage and screen -- give us the incredible gift of music each holiday season.
Christmas 2005 with the Choir did not disappoint.
If ever there was a voice made to blend with the Choir it is Fleming's. This concert featured solo efforts from Fleming with What Child is This? and Bring a Torch, Jeanette, Isabella! and O Holy Night. But she shined best with a Wilberg arrangement of a song new to us called Poor Mary, a lullaby Fleming grew up hearing from her mother.
Claire Bloom narrated a tragic but touching Christmas tale set during the 1917 Russian revolution. The story was vividly told with the Orchestra and the newly-formed Bells on Temple Square playing softly in the background. She also read the Christmas story from the 2nd Chapter of Luke, a long time Christmas concert tradition on Temple Square. Bloom's pacing was captivating in sharing these two narrated works.
What gives this event its special quality is the all-volunteer efforts of the Choir and Orchestra. Written on their faces is the pure joy of Christmas music. They get their cues from Jessop, who appears to be perpetually dancing on his toes as he extracts from them visible passion for the sounds of Christmas. This man clearly loves what has to be the best job in the music business. Watching him is akin to hanging stockings with a five-year-old on Christmas Eve -- he is animated, focused and urgent. The Choir brought down the house with the very traditional For Unto Us a Child is Born, highlighted by a gleeful Jessop directing. Under his direction the Choir is sharply rehearsed and passionately communicating with the audience.
If Jessop is the spirit of the Choir, Wilberg is the heart and soul of their music. His longing arrangements have come to put us on the edge of our seats. From the Choir's How Far It It to Bethlehem?" to the haunting Lo, How a Rose E'er Blooming Wilburg creates environment and emotion that provokes tears. We have come to look for his arrangements in concert programs and CD liner notes because the quality of his work never fails to please. His dour demeanor contrasts Jessop's giddiness even in performance. But his clearly creative gifts and intensity give the Choir's music and message the depth we all seek when coming to these events. We come away filled, awe-struck and anxious for more.
As a family, I find it curious how critical we have become in reviewing these events. The Choir faces the daunting challenge of putting on a better show each year. We thought it would get no better than the year Cronkite told the story of the Christmas Truce, only to be knocked off our feet by the pure fun of von Stade and Terfel. Like last year we came away from this concert at first thinking it was a little too much guest artist and not enough Choir and Orchestra. But having just watched last year's concert again on DVD I have to admit that each show is a unique gift with its own flavor and Christmas signature.
The truth is that we are profoundly grateful for each Christmas concert experience. Our newest Christmas tradition is completely unique in that there is probably no other form of entertainment in the world where our family members from ages 8 to 91 in attendance could sit together and equally bask in the warmth of Christmas spirit these events provide. We won't ever miss attending these events, if we can help it. And we will happily relive them through recordings for years to come.