By Walt Hughes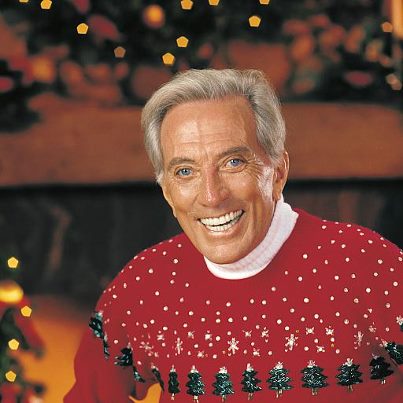 Legendary crooner Andy Williams passed on September 26, 2012 after a battle with cancer he revealed just before Christmas 2011. He was 84.
Andy Williams began his career in 1938 as part of a singing quartet with his brothers. He went solo when the group broke up in 1953. Through a regular gig on the Tonight Show, Williams sustained enough visibility to compete with the likes of Frank Sinatra and Pat Boone, charting several hits during the 1950s. He was big enough in the early 60s to land one of the largest record contracts in history (at the time).
Williams' impact on Christmas was made in two ways – through music and television.
His 1963 album – The Andy Williams Christmas Album – was a top hit in that year, in 1964 and briefly in 1965. It certified gold in 1964 and finally went platinum in 1986.
It is interesting to note the path traveled for this particular album, especially considering the evolution of popular Christmas music. The record label promoted William's version of White Christmas as the cover for the album in 1963, a predictable course considering the runaway success of White Christmas for several artists, including Frank Sinatra and Dean Martin, in the 1950s. And, of course, the song was a sentimental runaway hit for Bing Crosby in the 1940s. The industry assumed (and rightly so) it was still the signature song used to launch a successful Christmas album.
But it is another song from that album – It's the Most Wonderful Time of the Year – that became, over time, Andy Williams' signature Christmas hit. The song in 2002 rose to #5 on a nationally recognized list of Christmas standards. Pretty surprising for a song that was never a hit to begin with.
That was the magic and staying power of Andy Williams. His most widely known non-Christmas song – Moon River – was first performed by Williams at the 1962 Academy Awards. The song never hit the charts because Williams never released it as a single, relying instead on using the song to fuel popular album sales. He became identified with the song and even later named his Branson theater after it.
Unlike other performers in the 40s and 50s Andy Williams was able to successfully parlay television in creating a lasting Christmas image that makes him now -- short of Bing Crosby -- the most recognizable Christmas performer of all time. Williams had a television variety show that ran weekly from 1962 to 1971, and later continued with that formula with annual Christmas specials still beloved by Christmas enthusiasts.
Through the success of his annual Christmas television specials Williams was able to release eight total Christmas albums and even earned the moniker "Mr. Christmas", an image seared on the public by William's signature look of a turtleneck beneath a sweater.
Williams' career never stopped focusing on Christmas as he transitioned to Branson, Missouri where he continued to build and sustain the careers of hundreds of artists either featured on his television specials or showcased in Branson. Williams continued to perform until 2011, when he stopped only to focus on his health.