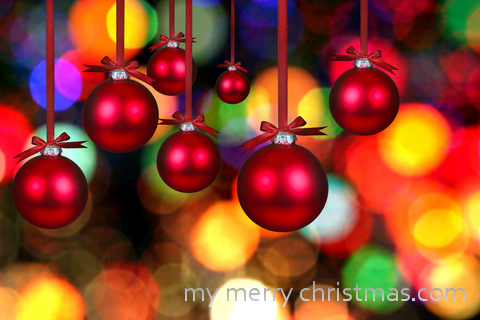 Americans are looking forward to a merrier Christmas in 2011 despite attitudes that remain dim about the economy. In the 12th annual Christmas survey commission by My Merry Christmas.com about the attitudes of Christmas a divide is emerging about the economy of Christmas and just what constitutes a "merry" Christmas.
Fifty-eight percent of survey participants anticipate a merrier Christmas in 2011 despite the fact that a whopping 83% remain negative about the world economy. That optimism about the holiday season is vastly improved over last year's result of 39 percent.
"Since 2008 we've seen dramatic downward shifts in the attitudes about Christmas," said Jeff Westover, founder of My Merry Christmas.com. "Almost everything we tracked was tied to the economy. From employment to shopping, even attitudes about foods and decorating, all indicators pointed to a negative trend applied to Christmas. This year those attitudes appear to be shifting a bit and I think it is because folks have grown weary of the economy dictating their happiness with life events like Christmas."
For example, last year less than 12% of people felt they would spend more on Christmas decorations than the previous year. That number hasn't changed much -- just 14 percent feel that way in 2011. But, of those who said they will decorate in 2011 the number has jumped significantly from 56% to 71%.
Similar shifts about what people will "do" for Christmas versus how much they will spend is evident in many categories this Christmas. 93% intend to give gifts in 2011, up from 86% a year ago. 74% intend to make religious services part of their Christmas celebration versus just 63% a year ago.
Here are other categories of traditional Christmas activities that show growth over last year:
Christmas baking -- +12%
Christmas caroling -- +3%
Sending Christmas cards -- +6%
Spending time with extended family -- +13%
Christmas crafting -- +11%
Listening to Christmas music -- +14%
Seeking Christmas online -- +43%
Watching Christmas movies -- +12%
Attending community Christmas events -- +5%
Participating in gift exchanges -- +5%
Attending Christmas parties -- +7%
"So many of the national surveys we see published right now are focusing on economy and jobs related to Christmas," Westover said. "And our survey isn't much different as these parts continue to show negative across the board. Folks have less money, feel less secure in their job or are frustrated in finding a job. In fact, those numbers are worse than ever. But what's interesting is that we're seeing for the first time since measurable economic indicators took a big slide in 2008 and shift upwards in overall activities of Christmas."
In terms of spending, the My Merry Christmas.com survey yielded mixed results. Gift shopping, money set aside for holiday entertainment and travel or for extravagant foods or decorations all trend down again, most near 10 percent below last year's levels. But, attitudes about doing more with less are definitely on the upswing.
"Last year our surveyed average of what the typical American consumer will spend on Christmas overall fell to just under $800," Westover said. "That total looks weaker in 2011, coming in around $740."
But, in terms of quality time, folks see Christmas 2011 as a highlight of the year with 77% of respondents saying the season would be "a highlight compared to the rest of the year" and 91% saying Christmas would "be happier than last year". A full 58 percent of respondents say Christmas overall has more significance for them since the Great Recession began in 2008.
-- Trends in Christmas Decorating
Continuing a trend established in 2008 spending on Christmas décor will be subdued again in 2011. Economic concerns, escalated costs of electricity and a pervasive attitude of "needs over wants" is holding consumers back from spending on holiday decorating. A mere 14% indicated they would spend more on new decorations in 2011.
However, 62 percent of respondents said they plan to decorate more using homemade or older decorations that do not require new spending. 87 percent indicated that Christmas decorating makes them feel better and improves their holiday experience. Christmas decorating is seen by 93 percent of respondents as an inexpensive holiday activity that has value as long as no new costs are associated with it.
Following the frugal theme, 54 percent of respondents indicated that light displays or décor requiring the use of electricity would be the same or less as was in use a year ago.
88 percent of respondents plan to put up a Christmas tree (with lights). Of those, more than half, 57 percent, plan to use an artificial tree. 77 percent of respondents prefer a live tree over an artificial tree but costs of real trees is a major issue during these times of economic hardship. 33 percent of respondents said they would not buy a real tree even if the price of a 6' tree dropped to less than $30 – a significant change from previous surveys.
-- Trends in Christmas Foods
Foods are the one area of Christmas not reporting a decline in planned dollar spending. The average consumer plans to spend more than $114 on holiday meals, treats or food-related gifts in 2011. That's up from $98 from a year ago.
In exploring this trend we learned that 77 percent of respondents feel that food is the most necessary and affordable element of Christmas celebration.
As usual, an overwhelming percentage (78%) indicated they would prepare their own foods for Christmas celebrations.
In tune with the times, most respondents (86 percent) expect to pay up to 12 percent more for Christmas foods and ingredients for this holiday season.
-- Trends in Christmas Religious Activity

America is going back to Church for Christmas 2011. 61 percent indicate that religion is a "very large part" of their Christmas celebration, up from 57 percent a year ago.
Attendance at a church service is expected for 74 percent of survey takers, up dramatically from just 52 percent last year. Christmas falling on a Sunday traditionally skews this result, as it does this year.
-- Trends in the "War on Christmas"

Once again, more than 84 percent of survey respondents do not feel there is a War on Christmas in America. A full 88 percent of more than 4578 surveyed feel that the annual headlines surrounding the debates over Christmas are overblown media events driven by political agendas.
On the topic of retailers who refuse to say or use the term "Merry Christmas" or to substitute the word "holiday" for "Christmas", 69 percent of respondents just don't care.
Of those who hear the term "Happy Holidays" instead of "Merry Christmas", 98 percent are not offended or bothered.
99 percent of respondents prefer that a Christmas tree be called a Christmas instead of a "holiday tree", though only 5%.
On the issues of Christmas on public properties or in public institutions such as schools and court houses there is a clear divide. 56 percent of Americans polled do not think Christmas should be exclusively displayed during holiday periods like Christmas where other holidays, such as Ramadan and Channukah, are also celebrated. 67 percent feel Christmas should be allowed in schools inclusive of music of a religious nature such as Silent Night and O Little Town of Bethlehem. But 77 percent also feel that similarly religious music should be allowed of other faiths celebrating holidays as well.
Speaking of Christmas in the schools, a new question this year casts doubts on the ability of educators to accurately or adequately teach the history of Christmas. 62 percent of respondents say public schools are incapable of teaching the subject.
-- Trends in Santa Claus

Santa Claus remains popular in American culture. 88 percent of American parents report feeling comfortable with a belief in Santa Claus for their children and 77 percent of adults still claim a belief in Santa Claus.
Most Americans, however, do not know the history of Santa Claus. Less than 16 percent were able to recognize the connection between the modern American Santa Claus and the historical figure of St. Nicholas. Fewer than 1 percent knew of pagan connections to Santa Claus in the form of ancient gift bringers.
Americans are concerned about the portrayal of Santa Claus in media, movies, music, television and on the Internet. 84 percent feel that Santa Claus is not represented well by those who portray him particularly in movies. Late night television also gets low marks for Santa Claus portrayal with just 17 percent of parents approving of how Santa is portrayed on talk shows, comedy/variety shows or late night movies.
On the Internet Santa Claus is a concern to a majority of parents. 89 percent of respondents insist on visiting Santa Claus venues online with their children because they do not believe their children are safe even with Santa Claus online. 94 percent of parents do not approve of any Santa venues that could have potential private communication with their children through email and 99 percent feel use of an email address on a Santa-themed venue online is unnecessary and dangerous.
-- Christmas and Money

Americans plan to be thrifty this Christmas. The average consumer reports plans to spend $740 on Christmas in total this year, down slightly from Christmas 2010. The majority of those dollars will be spent on gifting and entertainment.
Christmas in the workplace continues to be nearly non-existent as 48 percent of respondents report that company Christmas parties are a thing of the past. Nearly 80 percent of working Americans plan to observe Christmas through light gift exchanges or cards to co-workers and 67 percent expect a light luncheon or pot-luck close to Christmas weekend.
American shoppers indicate a need for bargains as 94 percent say they expect to get a discount on their most wanted Christmas items.
-- Trends in Gifting

The Great Recession continues to impact gift giving as part of the American Christmas. As noted in the money statistics, spending will be less than last year, continuing a trend that has not changed in our tracking since 2006 (five straight years of declines). Forty-six percent of all respondents plan on gift giving within their immediate family only, up from previous surveys by nearly ten percent.
While the amount of money spent on gifting or the amount of gifting going on is fairly predictable the shifts of WHAT will be gifted are more difficult to peg.
Electronics are traditionally hot gift giving items and this year will be no exception. However, which electronics are in demand are pretty limited. Tablet computers, like Christmas 2010, will lead the charge with 58 percent of Christmas shopper looking in that direction, a number that could have been spiked due to the announcement of Amazon's entry into the tablet computer foray in late September when the survey was conducted.
But what was more surprising in electronic gifts is what won't be hot this year: desk top computers, flat screen televisions, video gaming systems, MP3 players, digital cameras and GPS devices all trend negatively compared to past surveys. On the average, the number of consumers who indicate shopping for these items is declining at a rate of 12% over previous seasons.
Other categories could be in for a rough season as well. Apparel ranks last in shopper appeal, with just 28 percent indicating they will be gifting clothes this Christmas. Books, music and movies also rank weak compared to past years with just 47 percent indicating these as possible gift purchases.
Gifts of food – such as gift baskets, wines, gourmet chocolate and fruit – score better with a showing of 14 percent indicating an interest in gifting this Christmas, that's up some 5% over a year ago. Gifts of necessity such as grocery gift cards, shoes, outerwear, and cash are predictably more popular this season with 38 percent expressing a preference in this category compared to just 23 percent a year ago.
-- Trends in Shopping

Significant changes in where gift buyers will shop this Christmas are expected. Black Friday seems to be waning in popularity as 57 percent now feel Black Friday is more of an event than an actual shopping opportunity.
Online shopping continues to gain in confidence and popularity as 61 percent indicate a likely use of the Internet for holiday buying this year. Amazon, WalMart, Target, iTunes, and eBay are mentioned by 57 percent of probably online shoppers for Christmas shopping in 2011.