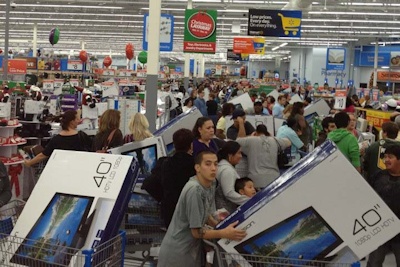 By Jeff Westover
As we noted last year, Black Friday is changing.
It is a day full of long-held misconceptions. The day after Thanksgiving has been touted by some as the "busiest shopping day of the year" (it's not). History teaches us that it is called Black Friday because that is usually the day retailers go from operating "in the red" to "in the black" (if that was ever true that was long, long ago). And many continue to insist that Black Friday "officially" kicks off the holiday shopping season (if there is a day set aside for such an honor it would have to be the day after Labor Day).
Whatever you think Black Friday is now is a good time to re-think it.
Black Friday is a day of opportunity for anyone looking to make a buck or find a bargain in the lead up to Christmas. It falls on a holiday weekend when many folks have little physical activity planned due to heavy meals, poor weather and family diversity. And folks on such a weekend are usually in a festive mood. Retailers of all kinds call that a target-rich environment.
But Black Friday has evolved from the starting-gun early morning affair from days of yore. Online retailers have squeezed the opportunity by making the pajama-wearing shopping experience an enticing alternative to the bundled-up-in-the-cold drudgery of the past. And more importantly, the products, prices, and selection have expanded as only a free market can produce.
That makes for a lot more opportunity – and a lot more risk for the consumer dollar.
Complicating matters is the state of the American economy in 2012 and what retailers need to do this shopping season. While 2012 has been a year of mixed signals there are dark clouds on the horizon. Third quarter earnings were flat, election-year politics predictably softened fall sales, and huge tax increases in January point to tepid selling conditions ahead. That all means retailers are being very, very aggressive.
The top five things you need to know about Black Friday 2012:
1.
Start now.
Black Friday is no longer just a day. It is a season-within-a-season. Recent years have seen deals begin to emerge the first weekend after Halloween. Election year activities have delayed it slightly this year but they more than make up for it by mid-November. If you want in on it you need to know who is offering what, when they are offering it, and when to buy.
2.
Know what you want
. If you only going in to certain retailers once or twice a year now would be a good time to see what they are up to. Many specialty retailers are perceived as not participating in Black Friday promotions. Many falsely assume only the big box stores and department stores do the Black Friday thing. But the Internet never closes and as retailers have expanded and perfected their online presence they have made Black Friday an event. If you're used to buying names like Harry & David, Build-a-Bear, or Honey-Baked Ham now would be a good time to see what they have going on.
When it comes to item-specific gift giving, especially in electronics, you have to do some homework. A lot of HD televisions, computers and devices are sold during this time period but manufacturers purposely use this time of the year to clear out the old. The hot-priced deal you think you might be getting will more than likely lack the features of the next-big-thing. That might be ok, depending upon your situation and your desires. But you'll need to know that before you plunk down the cash.
3.
Use your smart phone
. When it comes to Black Friday – there's an app for that. In fact, most retailers have become app happy. For example, Target is now offering QR codes in the ads and on shelf price tags for their Top 20 Toys. Smartphone users can scan the "quick response" bar code and instantly purchase that item and get free shipping. Every retailer is handling it a bit differently and some apps are better than other.
Another reason to have your smartphone with you will be to price-match items as you go. Not only can you see what one retailer has over another on price you can, in many cases, use the smartphone as required proof when asking for a price match deal. In this recessionary value-conscious environment retailers have to offer price matching and most, such as WalMart, won't give you a hard time about it. Best Buy appears to be the one major name putting conditions on their price matching policy, so buyer beware.
The savvy shopper can no longer go into these stores without the vital tool of a smartphone.
4.
Use a credit card
. This seems like old advice and something every shopper should know. But did you know that Black Friday is one of the biggest "cash" days of the year for many retailers? Folks out there will tuck money away all year long just to spend it on Black Friday. That's great but why not use the protection that even a credit card logo on a debit card provides? It may vary slightly by institution but even debit cards with a Visa or Mastercard logo carry fraud liability limits for amounts over $50, just like a credit card. And most credit cards offer a merchandise warranty beyond what a manufacturer or retailer offers. Using a card just makes a lot more sense on Black Friday.
5.
The deals may get better.
Know what you're shopping for. If you want that $200 laptop you know you have to pull the trigger on it the minute you see it. But did you know the toy market goes into hyper discount mode two weeks before Christmas? Forget Black Friday for toys, especially if what you are shopping for is a toy staple versus the hottest thing going. That Mr. Potato Head or Monopoly game will never be cheaper than just before Christmas. The same can be said of holiday decorations, table-top furnishings, Christmas lights, winter apparel, jewelry, shoes, and books.
Be aware of the calendar. Right after Black Friday is Cyber Monday. And those deals will be hot. But knowing how shipping folds into the Christmas calendar helps, too. Buying after the shipping deadlines have passed can lead to great discounts if you are willing to wait until after Christmas to get your stuff.
Who is the one to watch?
Who is the deal-maker to watch for Black Friday? Many assume it is WalMart and they would be wrong.
The real market-mover is Amazon.com
.
Amazon has their Black Friday store open now and their "Lightning Deals" are happening already. Being an online-only venue with the strongest distribution network of any retailer Amazon knows what they are doing and they do it well. Many assume that Amazon is just about books and movies but the truth is they have everything a Walmart has and more.
Their interface is addictive. The Amazon "prime" membership – which is about as much as you would pay for a membership at a club like Costco – provides free 2-day shipping and a plethora of added deals for the Amazon faithful. The perks of membership combined with the incredible non-stop deals have many devoted to doing all of their Christmas shopping online at Amazon.
What makes shopping Amazon different is that Amazon, like all retailers, will only have so much of the in-demand "hot" products of Black Friday. But, they augment what they offer with so many more deals that cannot be had anywhere else and they do it relentlessly night and day for weeks. The Amazon Black Friday experience is not over in a half-hour as is the case at Best Buy, Target and others. And when Amazon talks about, say, dropping toy prices, all the other retailers out there adjust to it. Amazon is the one to watch.
Predictions for Black Friday 2012
The selection of what is available is greater than ever before. But you will want to shop early. Due to aggressive layaway options put in place particularly at WalMart, Kmart and ToysRUs the quantities of hot-priced items may be less.
What's Hot
Tablets
– Everyone says Apple but everyone shops Amazon first. Kindle Fire HD @199 drives the market.
42 inch HDTVs
– Starting @ $189 at Best Buy, Walmart and others
Smartphones
– Get a contract and get the NEW Motorola Razor phone for free. Or thereabouts. Amazon did this unannounced last year and many expect them to do it again. The week before Black Friday and leading up to Cyber Monday is by far the best time of the year to buy a smartphone. Look for deals on the Samsung Galaxy S III, too. They will be there. The newest player is Microsoft with their Phone 8 series introductions. They are itching for a fight against the iPhone so expect deals to be out there for them too.
What's Cheap
Gaming
– Xbox 360 Kinect Bundle @ $199 at Kmart; Ninentdo Wii @$89
SmartPhone
– Samsung Galaxy No-contract Cell Phone for Net10 @90 (rumored at Kmart)
Blu-Ray Players
– LG 2D @ Sam's Club for $38
DVDs
– Select titles for $1 @ WalMart
Singer Sew Mate 5400 Sewing Machine
-- $100 @ WalMart
Fuji Finepix JCP520 14MP Digital Camera
-- $50 @ Best Buy
What's in Short Supply

Anything Apple
– the famous lines during off-season product launches are no accident. Apple products are in such high demand they will not sell for less or be more available on Black Friday.
Nintendo Wii U
—the first all new gaming system in five years hits the streets on November 18th and it will be impossible to find – by design. This is an old game we know well. Get the kids fired up for months on end, drive up demand during the busiest time of the year by creating scarcity and then cash in toward the middle of the next year by flooding the market with product.
Windows 8 Computers/Tablets
– The new kid is town is the Surface tablet by Microsoft and no, it is not available. In fact, all the new Windows 8 products are in their introductory phase and while priced competitively will suffer from availability problems. If you find one consider yourself lucky.
When is as important as Where and How Much
Black Friday isn't just on the Friday after Thanksgiving. It is going in full force online and around the clock beginning around the 10th of November – online. And it keeps on going through Cyber Monday, which this year falls on November 26th. But retailers are just now getting around to talking about when they will open or when there will be special deals.
Walmart:
The world's largest retailer is making adjustments this year in a big way after surveying customer feedback about Black Friday in the past at Walmart. This year the deals begin on Thanksgiving evening at 8pm with doorbusters on toys, games, home goods and clothing. The fun for electronics at Walmart begins at 10pm on Thanksgiving Day. Between 10 p.m. and 11 p.m., Walmart is also guaranteeing that customers who are already inside its store and waiting online will be able to buy three special deals -- Apple iPad2 16GB with Wi-Fi for $399 plus get a $75 Walmart gift card; Emerson®32" 720p LCD TV for $148 and LG Blu-ray Player for $38. MacNaughton said the Wal-Mart is offering that guarantee because it has enough inventory of those three products to meet the anticipated demand. Later, at 5am on Black Friday morning, Walmart will launch specials that mostly focus on home goods, jewelry, tires and furniture.
Sears:
Thanksgiving Day at 8:00 pm
Kmart:
Open Thanksgiving Day with separate deals. Black Friday begins at 8pm on Thanksgiving Day.
Stores opening at Midnight:
Target, Best Buy, Old Navy, Sports Authority, Bealls, Kohl's, Macy's
Stores opening at 5am on Black Friday
: Fred's, Ace Hardware, Staples, Cabelas, Gordmans
Stores opening at 6am on Black Friday
: Pep Boys; Radio Shack; Bed, Bath & Beyond; Office Max
Store opening at 7am on Black Friday:
Sam's Club; Rite Aid, Harbor Freight; Stein Mart
Good Things to Know
• Best Buy is in trouble. The electronics giant has suffered from weak sales and poor earnings performance for some time and their demise has been rumored on Wall Street for a while. They will be looking to deal this holiday season because they need it.
• Walmart workers are unhappy and trying to unionize in more and more places. Efforts are underway in social media to organize workers nationwide for a strike on Friday, November 23rd.
• Missing from Black Friday will be JCPenney. Earlier this year the aged retailer shifted focus away from sales, door-busting discounts and coupons for simplified everyday low pricing. The strategy has shocked consumers. There will be some advertised deals for Black Friday but whatever consumers knew Black Friday to be at Penney's is long gone.
• Apple has everything from iPads to iPhones that everyone wants. But what Apple does not have is a reason to get up early for Black Friday discounts. Typically a Black Friday sale at an Apple stores means savings of 5%. Hardly worth getting up early.
• Third party apps can be useful in holiday shopping. ShopKick offers in-store coupons from a variety of retailers. Smoopa compares local deals to what it can find online and offers special deals when you do find a shelf price lower than online. Endorse is an app that offers cash back on purchases of select products even if you found the item on sale.
• It isn't as popular as a hot deal on a computer or a HDTV but Black Friday usually represents the lowest price of the season to be found on winter coats for the kids, especially at Sears.