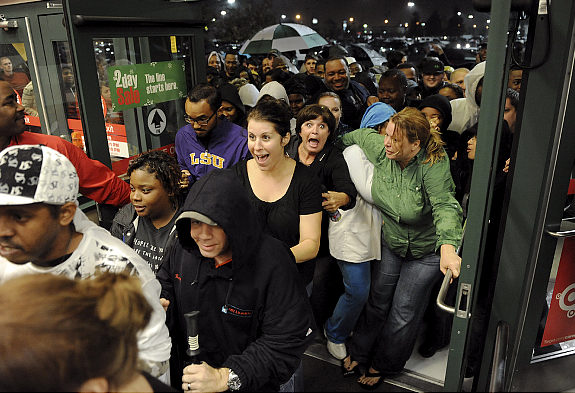 Black Friday in a down economy should spell a total win for Christmas shoppers. Indeed, word on the street is that the deals will be fast and furious this year. While these aren't our final Black Friday prognostications we think the rumors about the following are solid and should be considered as you make your buying plans.
1. Smaller screen HDTVs will be dirt cheap. Isn't it funny what we consider small these days. Turn back the clock 20 years and a 25-inch tube television was the hottest "big screen" on the market. Now flat panels in all their varieties are the standard and the smaller sizes are 32" and 42". Is this a great country or what?
But wait -- it gets better. How would you like to get that 32" HDTV for less than $200. Chances are that is going to happen this Black Friday -- the price on these have dropped 50% in the past two holiday seasons. Deals will abound in this category.
2. Tablets will be hot....(which means #3 below is the real deal this season)...Amazon's Kindle Fire just ignited the tablet category into something exciting. Priced at $199 ($300 below the cheapest iPad) you're going to see a lot of folks go for it. To be honest, these are two very different products and they will both sell very well.
3. Laptops in the 15-inch and 17-inch variety are going to be cheap. Very cheap. Tablets are the hot thing and laptops are suddenly old school. Of course, if you actually want to get work done while on the road versus merely being entertained and looking cool a laptop is the way to go. And a laptop is an indispensible tool for students. This year they will stack-'em-deep-and-sell-'em-cheap -- starting at $199 for laptops that just a few years ago topped out at over $1000.
4. The two big trends in "Black Friday" bargains actually don't have anything to do with any particular product. Those trends are "earlier than ever" -- meaning that the day after Thanksgiving thing might not be the big event it once was. And the other is "get it online". Stores stockpile and staff stores, greatly cutting into profit. What if they can sell those bargains at a reduced cost? What if they offer the deals earlier, online and with free-shipping? That would allow more retailers to get earlier holiday dollars -- and shoppers to spread out their buying. Retailers to watch in this regard? Amazon, Wal Mart, and Best Buy.
5. Low-Tech stuff is plentiful -- and cheap. Look for great discounts on small appliances, home office equipment, apparel and toys. These don't carry the headlines traditionally on Black Friday but they should. In a down economy a $25 coat at Sears for your kid is a bargain for a necessity. These deals will be plentiful.
6. Remember when the Wii was $300? No more. It's been five years since a new system was introduced and there are new technologies on the horizon -- but not for this Christmas. You'll see the Wii for $99.
There are two things to remember whether you are a shopper or a retailer this holiday season: none of the economic indicators are pointing up. That means retailers are already forecasting this to be a down season.
That's good news for consumers, right?
Wrong. Retailers are going to cut their losses early. That means deals early -- and not much going on from Thanksgiving weekend forward. Like we saw during Christmas 2008 and 2009 selection will be limited the closer we get to Christmas and prices aren't going to change much after Thanksgiving weekend.