By Jeff Westover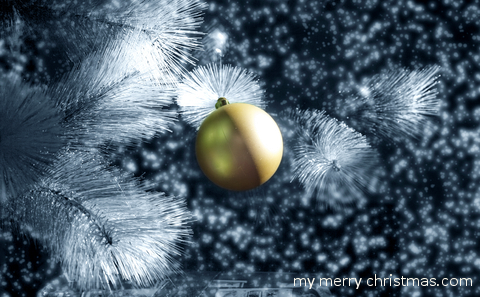 (Author bias: Christmas is all about the tree and if you want snow, flock it. Other than that, snow really isn't all that necessary for this California boy.)

For some it just isn't Christmas without snow on the ground. Perhaps that's a nostalgic notion fueled by childhood years of Santa tracks in the yard or new sleds on Christmas morning. No matter, some insist that snow is so important to their celebration of Christmas they will paint snow on their windows and flock the stuff on their trees just to have it.
I grew up in Northern California where the only snow even remotely possible at Christmas happened in the mountains 200 miles away. For us living in the rich heartland of the San Joaquin valley we depended upon fog – not snow – to give us Christmas ambiance.
This was London-thick kind of fog we would get. As a paperboy (there's a term you don't hear much anymore) I lived for those foggy winter mornings riding my bike by muscle memory, knowing every crack in the street and every bump in the sidewalks as I would have to time my throws by counting a cadence between houses and throwing on blind faith with just the right touch to land a paper on an unseen porch. I didn't always hit the target but would feel very satisfied passing through entire streets without having to stop and approach a house in the dark fog searching for an errant paper I wasn't sure I could find.
Christmas lights in the fog were my favorite. In fact, being a paperboy in our little town at Christmastime back in those days was holiday dream come true. The art of athletic opportunity – so keen in the fog as my baseball-loving mind would hang a curve while still summer dreaming that I was Catfish Hunter – was only surpassed by the evening chore of collecting the December bill. Big tips were to be had and lots of holiday treats in the form of cookies, cake and sugared treats of all kinds were lavished on me in the spirit of the season. The fact that all that was surrounded by Christmas lights in the fog just made it all the merrier for me.
The best tip of all came from the guy who paid me extra every month to whistle for him at the same time every day – at 4:45 am – fog or no fog. He tipped me $5 bucks a month eleven months of the year – and $100 every December. That made me richer than Santa Claus.
Even though I loved the Christmas fog I grew up with I was always envious of those with snow.
Every few years we would head up to the Sierra Nevada Mountains near the north shore of Lake Tahoe and spend a week of Christmas there. Sometimes there was snow. On one magical Christmas we had snow about three feet deep, the chains on the trucks running down the highway sounding every bit like sleigh bells made the world indeed seem a winter wonderland. After years of longing for the famed white Christmas I had finally experienced one and I found it lacking.
We weren't home. The lesson being that after all is said and done it isn't the lights, the tree, the fog or the snow that make Christmas after all.
My children, of course, are having a completely different Christmas experience than I did. I tell them the stories of my Christmas fog and they look at me like I'm clouded in the head. They get snow each year, living as we do in Utah, so much so that they insist it isn't Christmas unless the stuff is falling in big flakes from the sky.
For six months each year they complain on end about the cold, about having to shovel the stuff, about slipping on ice and enduring bitter winds. But if the ground is covered in white and the sky is painted with falling snow on Christmas Eve all is right in their world.
They don't know it isn't the snow that makes Christmas Christmas. It's home. They will get that when they leave. But only then.
Nearly 30 years ago I spent two years as a missionary in the snowless and fogless climate of Puerto Rico. These first two Christmases from home were an eye opener in many respects. I learned that Christmas feeling can follow you but I only learned it because I was focused on service. I recall spending a Christmas weekend there helping a newly widowed man clear out his yard. The work was hot, humid and grim. But after we were through the man invited us in and asked us to sing Christmas carols with him, in Spanish, to help cheer him up. At first I didn't feel like doing it. But as we got into it and began to smile and laugh right there in the midst of Caribbean splendor it felt like Christmas.
So, no, you don't need snow to make it Christmas. You can debate that all you want and I'll never be convinced that true Christmas comes anywhere but from the heart.