Articles in Category:

Holiday Humor
06-02-2002 06:46 PM
Zero Liability Season's Greetings (Lawyer Approved)
---
Anonymously Submitted by an Attorney
Please accept with no obligation, implied or implicit, our best wishes for an environmentally conscious, socially responsible, low stress, non-addictive, gender neutral, celebration of the winter solstice holiday, practiced within the most enjoyable traditions of the religious persuasion of your choice, or secular practices of your choice, with respect for the religious/secular persuasions and/or traditions of others, or their choice not to practice r...
[Read More]
06-02-2002 06:32 PM
The Story of Stan Freberg's Green Chri$tma$
---
By Jeff Westover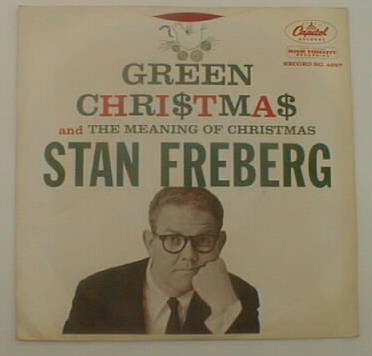 No Christmas recording collection can be without it. Stan Freberg's
Green Chri$tma$
is a holiday staple for generations of Christmas fans, beloved not only for the searing truth of it's message but also for the quality of it's music.
Long before the hotly debated war on Christmas, predating just about any civic debate over public Nativity displays or church and state arguments -- even before the term "political correctness" was coined -- Stan Freber...
[Read More]
06-02-2002 06:34 PM
Name that Carol
---
Name That Christmas Carol
Answers in green at bottom
Quadruped with crimson proboscis
5 p.m. to 6 a.m. without noise
Miniscule hamlet in the far east
Ancient benevolent despot
Adorn the vestibule
Exuberance directed to the planet
Listen, aerial spirits harmonizing
Monarchial trio
Yonder in the haystack
Assemble, everyone who believes
Hallowed post meridian
Fantasies of a colorless December 25th
Tin tintinnabulums
A dozen 24-hour Yule period...
[Read More]
06-02-2002 06:37 PM
Last Reply: Stnicholas01
07-18-2013

01:37 PM

Views: 67,014

Replies: 1
Martha Stewart's Christmas To-Do List
---
December 1: Blanch carcass from Thanksgiving turkey. Spray paint gold, turn upside down and use as sleigh to hold Christmas Cards.
December 2: Have Mormon Tabernacle Choir record outgoing Christmas message for answering machine.
December 3: Using candlewick and handgilded miniature pine cones, fashion cat-o-nine-tails. Flog Gardener.
December 4: Repaint Sistine Chapel ceiling in ecru, with mocha trim.
December 5: Get new eyeglasses. Grind lenses myself.
December 6: Fax f...
[Read More]
06-02-2002 06:42 PM
Gift for Men
---
Anonymously Submitted by a Man Sick of Getting Clothes for Christmas
Christmas is just around the corner so it's time for me to share some gift ideas for those special men in your life! Buying gifts for men is not nearly as complicated as it is for women. Follow these rules and you should have no problems.
Rule #1:
When in doubt - buy him a cordless drill. It does not matter if he already has one. I have a friend who owns 17 and he has yet to complain. As a man, you can never have...
[Read More]
06-02-2002 06:38 PM
Diary of a Snow Shoveler
---
December 9: We woke to a beautiful blanket of crystal white snow covering every inch of the landscape. What a fantastic sight! Can there be a more lovely place in the Whole World? Moving here was the best idea I've ever had. Shoveled for the first time in years and felt like a boy again. I did both our driveway and the sidewalks. This afternoon the snow plow came along and covered up the sidewalks and closed in the driveway, so I got to shovel again. What a perfect life.
December 12: The su...
[Read More]
06-02-2002 06:41 PM
A Parent's Night Before Christmas
---
Twas the night before Christmas
when all through the house
I searched for the tools
to hand to my spouse
Instructions were studied
and we were inspired,
in hopes we could manage
"Some Assembly Required."
The children were quiet
(not asleep) in their beds,
while Dad and I faced
the evening with dread:
a kitchen, two bikes, Barbie's townhouse to boot!
And now, thanks to Grandpa, a train with a toot!
We opened the boxes,
my heart skipped a b...
[Read More]
06-02-2002 06:40 PM
Last Reply: lauriebear
09-16-2011

12:36 PM

Views: 60,910

Replies: 3
A Mom's Letter to Santa
---
Dear Santa:
I've been a good mom all year. I've fed, cleaned and cuddled my two children on demand, visited the doctor's office more than my doctor, sold sixty-two cases of candy bars to raise money to plant a shade tree on the school playground and figured out how to attach nine patches onto my daughter's girl scout sash with staples and a glue gun.
I was hoping you could spread my list out over several Christmases, since I had to write this letter with my son's red crayon, on the bac...
[Read More]
Display Options
Showing Articles 1 to 8 of 8
New Article
New Hot Article
Old Article
Old Hot Article
Closed Article
internet radio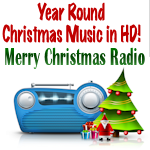 -- Windows Media
-- Winamp
-- Real Media
-- Quick Time
Website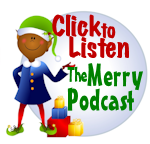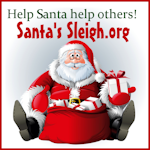 <