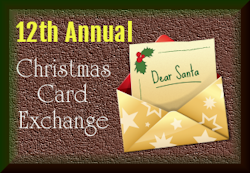 We are pleased to announce the opening of our annual Christmas Card Exchange here on My Merry Christmas.
This Merry Forums event was formalized in 2005, though we had loosely organized an exchange for some years before that on MMC. Many of the same names from our original exchange still participate in this great event.
Imagine going to your mailbox every day from Thanksgiving forward and receiving cards nearly everyday until Christmas. These cards come from your Christmas friends from places all over the world.
In my home it is a little like Christmas morning every day during the season to get the mail and see who sent today's cards. It is a thrill that warms the heart and brings smiles. And all the cards add to the beauty of our decorated home during the season.
I have done this for so many years now that my postman can't help but wonder about us. Once he asked us "Who are you to get so many cards and how do you know all of these people from all over the world?"
The Christmas card exchange is an exclusive feature for premiere members of the Merry Forums. This is done for safety, security and it ensures the quality of the event.
It also supports in a small way the efforts of Santa's Sleigh, our annual drive to help families in need.
While many media outlets say the sending of Christmas cards has become an archaic practice we know it to be a beloved tradition. A lot of folks still feel that way. We also know that there are tons of places you can go online to join an exchange. There are a billion such groups on Facebook alone.
What makes ours different IS the fact that is is open only to our premiere members. We know each other because we spend the year round Christmas together on the Merry Forums. This adds greatly to the quality of the exchange. It is one of the few exchanges online that is personal and is not filled with people who only receive cards but never send them. Every participant actually participates in the card exchange here at My Merry Christmas.
Yes, I guess you could technically say that a newbie can buy their way into our exchange. But here's what happens. They join as a Premiere Member of the site and find out ALL of the great traditions that are ours — and they stay. We have been spending Christmas together with so many folks from our card exchange for over a decade now. That is what makes it special.