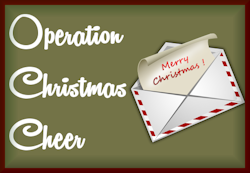 I have been waiting until our Christmas-in-July celebrations to tell this story.
Last year we added several names to a project we call Operation Christmas Cheer. This is a simple little effort we make to reach out and send a little love to folks who could use it through our Christmas cards.
These folks could be ill, maybe elderly, perhaps serving far away from home at Christmas or merely just experiencing a hardship. We make this little effort to try and lift folks a little in these situations.
We received a name and address from one of our members on the Merry Forums.
She explained to me that the person whose name she was sharing likely would not be aware of the cards we would be sending her. She was, at that time, very seriously ill and not able to communicate, read or respond to communication.
We added her name to the list anyway.
In March, long after Christmas had come and gone, I received another note. It said:
"Mr. Westover, I never got a chance to thank you at Christmas time for all the cards that were sent to my sister (a detail that was not shared with me previously). I cannot tell you how much they meant to her. The 2nd week of December she was finally able to come off the life support.
Her vision returned first and when she saw all the Christmas cards she was quite confused. I thought I understood her question from the look on her face so I just told her "the cards are from people who want you to get better and to have a Merry Christmas".
Those eyes, her only means of communication, started to cry.
For the next several days we had her back for a little while. I will always consider that my Christmas gift.
She didn't get well but she was able to think and talk a little bit before she relapsed again.
I want you to know that for the first time during her long illness she smiled and as the cards continued to come in they brightened her last days considerably.
She passed away in February, after she had slipped into her last coma again just after Christmas. The cards did exactly what Operation Christmas Cheer stands for. Thank you."
We're happy to kick off Operation Christmas Cheer yet again. We hope we add many more names to the list this year.
The effort blesses us all.