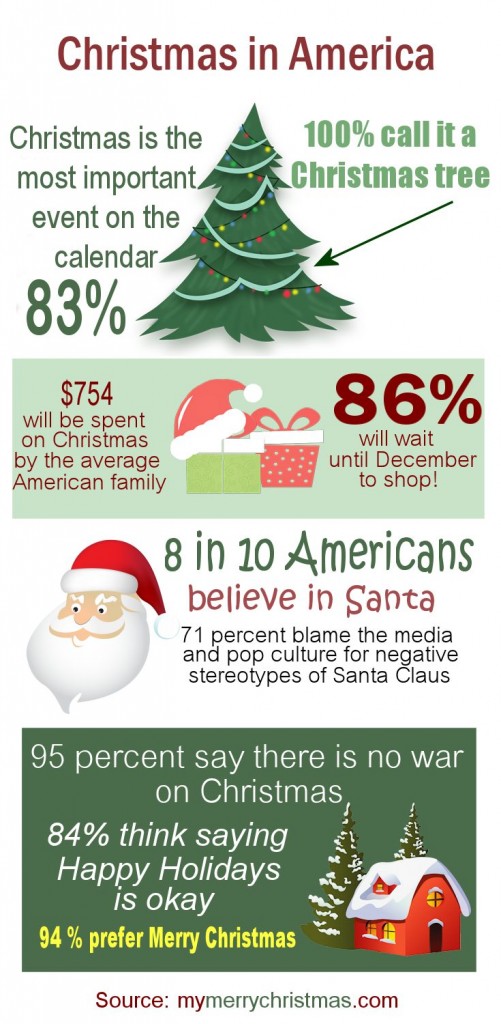 The annual survey of Christmas by MyMerryChristmas.com reveals that 83 percent of Americans feel that Christmas is the most important event on the calendar. 70 percent recognize Christmas primarily as a religious holiday in origin but only 61 percent claim to actually infuse their celebration of Christmas with religious elements.
The survey annually probes the attitudes and opinions of Christmas. 2014 marked the 15th consecutive year the survey has been conducted.
Economics, as usual, dominates attitudes about Christmas. 81 percent of respondents claim they plan to spend less than last year, marking 8 straight years of this trend. Overall, only 38 percent of respondents feel the economy is more favorable for Christmas spending, the lowest total ever on the survey.
In a surprising shift 89 percent claim that "Christmas is about peace on earth", ahead of gifting, worship, and family activity.
The survey interview was conducted with more than 7200 people over a late summer period of 2014 in seven diverse areas of the country: Seattle, Washington; Sacramento, California; Lansing, Michigan; Houston, Texas; Atlanta, Georgia; Boston, Massachusetts; and St. Louis, Missouri.
It was augmented through blind online surveys with more than 12,000 full-survey respondents, 87 percent of which came from the United States and Canada, the rest coming from the U.K., Australia and New Zealand (the survey had an English only requirement).
~ Christmas Shopping ~
The UPS shipping fiasco of last Christmas slightly influenced attitudes this year about Christmas shopping. While 48 percent plan to do some of their Christmas buying online this year a whopping 77 percent said they didn't plan to shop online last minute.
Only 54 percent plan to go near a mall this year while 81 percent think most of their Christmas shopping will be done at large box discounters.
93 percent said inflation has limited their Christmas spending options. Food costs in particular have touched consumers – 96 percent said they would spend dramatically more on food for Christmas this year – and as a result more than 9 out of 10 plan to spend less on gifting, entertainment, and decorating as a result.
In all, the average family plans to spend about $754 for Christmas this year.
More than 86 percent said their Christmas shopping will wait until December and the vast majority of those December shoppers – 93 percent – said that is only because they cannot spend the money until then. (Only 5 percent claim to procrastinate their Christmas shopping, a survey number that tends to shift wildly depending upon the time of year the survey is conducted.)
The survey this year included new questions about Black Friday and shopping on Thanksgiving Day. The results were interesting.
More 88 percent regret the changes to Black Friday in recent years, claiming that early-to-shop traditions in families for the day after Thanksgiving have changed for the worse.
38 percent say they "may" shop online on Thanksgiving Day but 56 percent claim they won't set foot in a store, no matter what deals are offered.
77 percent are "against" stores opening at all on Thanksgiving Day. 91 percent say forcing retailer workers to work on Thanksgiving Day is wrong.
~ Christmas and Religion ~
26 percent of survey respondents claim atheism, continuing a trend of godlessness in survey results. But once again, 98 percent of atheist respondents will celebrate Christmas. 94 percent of atheist respondents said they are not bothered by public displays of religious elements and a whopping 42 percent of atheists claim they keep religious themed décor as part of their Christmas celebrations "for sentimental reasons". Interestingly, 82 percent of atheist respondents say religious training was part of their Christmas tradition while growing up.
66 percent overall said Christmas is a religious observance, up slightly from a year ago. More than 46 percent said going to church on or around Christmas Day is in their plans. 99 percent of faith based respondents claim "no offense" by those who celebrate Christmas in only secular ways.
Respondents claiming to be non-Christian comprised 10 percent of this year's survey, up significantly from a year ago. Of those respondents 98 percent plan some kind of Christmas celebration.
~ Santa Claus ~
Santa Claus continues to decline as an influence on Christmas. Just 49 percent said Santa is an important element of Christmas celebration and, like last year, just 48 percent retain a positive impression of Santa Claus.
That being said, more than 80 percent claim a belief in Santa Claus but 63 percent said a reduce amount of exposure or emphasis on Santa Claus would be a good thing for their children over the age of 5. Just 78 percent of respondents plan to either visit Santa or take pictures with Santa with their children under five this year.
The survey expanded questions about Santa Claus this year, based upon last year's surprising results.
New on the survey were questions probing where modern perceptions of Santa Claus are made, what respondents believe are the historic origins of Santa, and how Santa Claus should be portrayed both inside and outside of the home.
71 percent of perceptions of Santa come from the media, inclusive of television shows and movies. Only 18 percent of those perceptions come from personal visits with Santa Claus or from public events featuring him. Just 2 percent of respondents think the perception of Santa Claus come from family or books, stories or emphasis by parents on the Santa Claus character.
An overwhelming 82 percent majority claim that Santa Claus is a 20th century invention created by marketers. Only 7 percent can cite any of the varied historic origins of the Claus character. Less than 5 percent knew St. Nicholas was born in Turkey. 90 percent claim Santa's sole mission is "to deliver toys to good children".
While 73 percent claim to read "The Night Before Christmas" to their children only 46 percent actually admit to talking to their children under the age of 5 about Santa Claus. Most say they have "the talk" about Santa Claus – 88 percent – at age 6.
~ War on Christmas ~
Once again, 95 percent do not believe there is a War on Christmas. This number has remained solidly consistent for more than a decade.
But 90 percent believe the controversies of Christmas have become tradition and will continue.
91 percent said that Christmas as a federal holiday is not a mandated religious observance. 96 percent said Christmas as a federal holiday does not violate the Constitution or the Establishment Clause. However, only 41 percent support government recognition of religious symbols associated with Christmas on public property. 88 percent said religious Christmas elements have no place in public schools.
That being said, 94 percent believe the arguments over traditional Christmas music in songs such as Silent Night being performed by public school groups have become overblown. 98 percent believe the continued study and performance of such music does not constitute belief or proselyting of any religion.
On the topic of Merry Christmas versus Happy Holidays respondents, once again, show a large degree of fatigue on the issue. 94 percent said it is perfectly acceptable to wish anyone a "Merry Christmas" while only 84 percent said saying "Happy Holidays" as an alternative is acceptable.
When it comes to the War on Christmas, 64 percent blame the media and 18 percent specifically say the Freedom from Religion Foundation is to blame. 58 percent say "the media in America hates Christmas".
"Christmas Creep" as a topic was once again part of the annual survey. Survey designers were concerned about these questions mostly due to the time of year the survey was taken – when "Christmas creep" was the dominating term in the media, as it usually is, every August and September.
This year more than 60 percent recognized the term "Christmas Creep". A full 82 percent of respondents claim not to be bothered by the early presence of Christmas merchandise in stores or Christmas themed commercials on television. 94 percent believe "Christmas Creep" is an invention of the media.
Once again, 100% of survey respondents said it is a Christmas tree, not a holiday tree. (Unofficially, this question far and away gets the most laughs of any on the survey).
~ Christmas and Entertainment ~
For the 15th straight year "It's a Wonderful Life" topped the survey as the most popular Christmas movie of all time, with 63 percent indicating it was their favorite. More than 78 percent said they will watch it again at least once this Christmas.
"Elf" seems to be growing again in popularity, more than a decade after it debuted. The movie was named by 17 percent as their favorite, showing five years running an increase each year.
Bing Crosby also continues to top the survey, as does "White Christmas" as the most popular Christmas song of all time. Modern popular performers of Christmas music are Michael Buble, Blake Shelton and Amy Grant.
77 percent of respondents express frustration with Hollywood over the lack of any new Christmas movies. 36 percent say a new dramatic telling of Dickens' "A Christmas Carol" is overdue while 14 percent say a Christmas-themed biopic of Dickens himself would be popular.
~ Notes about Survey Methodology ~
Nothing about the survey is connected with MyMerryChristmas.com. The survey is blind with most interviews conducted in person taking roughly 6 minutes per interview. Some interviews are conducted by phone.
Timing of the survey is critical. Dramatic shifts in attitudes are recorded if the survey is taken either right after or right before Christmas. Likewise we see inconsistent results when surveying about Christmas in April, May and June when Christmas is furthest from people's minds.
For 12 years the survey has been taken during the months of August and September – a time when most have Christmas on their mind but are influenced less by the media and pop culture in shaping their attitudes of Christmas.