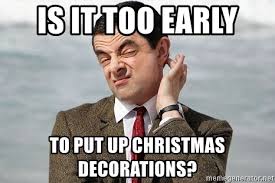 Big in the news today, November 14th, is word of a Home Owners Association in Texas making a family remove their Christmas decorations because they are up "too early". The letter was received by the family on November 4th.
That news has kicked off a furious media rush of stories and opinions about Christmas Creep – a phenomenon of complaining about Christmas too soon.
In Miami they can't handle Christmas decorations at the mall. Rolling Stone laments the presence of Christmas music climbing their own charts. In London a news organization tried tree-shaming Christmas fans who put their trees up in November. At Penn State a survey says Thanksgiving season is what should be the focus, not the Christmas season.
Christmas Creep is not a new debate. The argument usually gets a start as stores begin selling Christmas merchandise in August.
The fact that homeowners are now being frowned upon for their festive spirit in November is a new level of whine in the media.
Thanksgiving falls on November 28th this year leaving just 27 days between Thanksgiving and Christmas. For many that is a short season.
By tradition most homeowners begin hanging lights right after Halloween. There is nothing new about that. The weather, more than any thing else, has always made that a reality.
While most wait until Thanksgiving to light home displays the proliferation of new decorations in laser lights, inflatables, blow molds and motion décor has made the average home display more complex. Perhaps some in their enthusiasm have to get started earlier.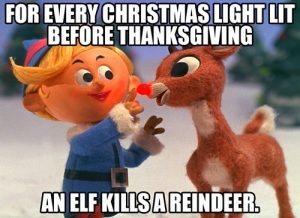 In defense of early decorating some "experts" say that Christmas Creep can be good for the soul and that those who do it are healthier and happier.
We note with a twinkle in our eye that the complaints appear to be selective. When was the last time you heard the media complain about Hallmark's big Christmas-in-July ornament showcase or QVC's big summer Christmas sales events?
When the Rockettes take over an entire city block during a hot August day to promote their Christmas show, complete with the help of city police, does the media notice or even care?
When Michael Buble or Pentatonix or other musicians drop a new Christmas video in October does the media complain? Never.
The media frequently contributes to Christmas Creep. They shamelessly promote (without charge) Starbuck's Christmas cups in early November (as if it is urgent national news). They breathlessly update us on the progress of putting up the Rockefeller Center Christmas tree.
Yet, here they are collectively complaining about Christmas like there is no other news to report: in Cincinnati, in New York, in Maryland, in Oklahoma, in Virginia, in Wisconsin, in Colorado,  — the media even complained about a presidential candidate wearing a Christmas tie. Even Canada has media who can't stand Christmas.
Advertisers and retailers have been selectively spotlighted — and cheered — by the media for their positions on Christmas Creep. This year it was eBay who promised to "chill this holiday" by promising not to promote Christmas stuff until November.
Sometimes complaining about Christmas creep is expedient. Last year, Target made headlines by claiming they were listening to their customers about Christmas Creep and declared they would not advertise Christmas before Thanksgiving. This year, it's a different story — November 1st, baby.
All this collective noise about when Christmas is and is not appropriate needs a subtle reminder. Christmas and Thanksgiving have gone together like peas-and-carrots for nearly five centuries. You literally cannot have one without the other.
Christmas on the mind, on the lips, in the heart and even decorated on the home is not inappropriate or "too soon" in any way.
If you don't like it you don't have to participate.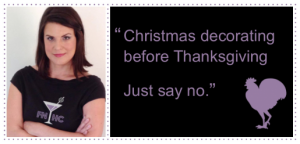 Father of 7, Grandfather of 7, husband of 1. Freelance writer, Major League baseball geek, aspiring Family Historian.