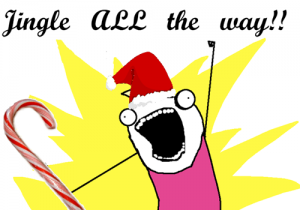 Once upon a time The Atlantic wrote of our merry website "they're weirdos". It was a swipe at the year round celebration of Christmas and of those who "took Christmas to the hobbyist" level. What other holiday, they asked, has such a following?
Indeed. The groupies of Christmas are many: there are the Christmas light fanatics, the professional Santas, the Christmas radio geeks, the year-round Christmas music freaks, the Christmas collectors, the Christmas historians, the Christmas foodies, and the Christmas organizers. There are so many sub-groups that embrace the specialties of Christmas we cannot even begin to enlist them all.
What kind of Christmas weirdo are you?
Besides Christmas itself, do you know what these lovers of Christmas all hold in common?
It is called Christmas in July and to them it is more than just a time of year. It is a rallying cry – a time for them to stand up, take notice and be heard on all things Christmas.
This year we think your July will likely feature more Christmas than ever.
Hallmark, of course, will dominate your television set with Christmas movies. Not to be outdone, the shopping channels like QVC will be blasting Christmas in July sales like crazy. Not to be outdone, Amazon unofficially kicks of their Christmas selling for the year with their Prime Day.
But that's not all.
The Christmas Expo lights up Dallas on July 19-21 with one of the largest trade shows dedicated to Christmas decoration around. Not to be outdone, the Golden Glow of Christmas Past – a celebration of vintage Christmas stuff – kicks off in August.
Online the forces of merriment are gathering as well. Right here on My Merry Christmas we have our traditional Christmas in July events to celebrate and we'll talk about them all over on the Merry Forums.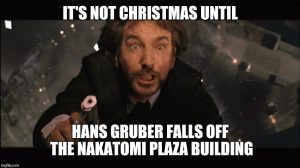 All Things Christmas is coordinating a blog swap in July, marshalling the forces of Christmas Past, Christmas Weekly, and sites such as Walking on Sunshine Recipes.
Christmas TV History is holding their traditional Christmas in July blogathon as well.
It all unofficially kicked off on Leon Day and unofficially ends on Christmas Creep Day, a day marked on August 1st when the media traditionally starts complaining about Christmas stuff being sold in stores.
There will be Christmas Podcasts from many, and even the celebration of Christmas in July from the North Pole with replays of Santa's flight last Christmas Eve.
Despite media publications like The Atlantic who despise Christmas and those who celebrate it, July will be a joyous time as folks in many areas of the world fight off the heat by anticipating a little Christmas.
That is one of the joys of Christmas. It is not just a day. It is not just a season, even.
Christmas is, as it is said, a state of mind. It is a state of being. Whether you chose to celebrate it with lights, movies, podcasts or events celebrating it does not actually make you a weirdo.
It makes you an old soul of good intent, one who indeed extends "good tidings of great joy, which shall be to all people".
Let the festivities begin. Merry Christmas!

Father of 7, Grandfather of 7, husband of 1. Freelance writer, Major League baseball geek, aspiring Family Historian.