Chief Elf Officer
MMC Founder
Santa's Elf
Kringle Radio DJ
Oct 7, 2004
16,732
16,475
1,222,381
It is a Christmas Eve tradition to acknowledge one special member of our community for contributions to Christmas online and to the Merry Forums in particular.

And what a year 2020 has been, eh?

There have been literally dozens among us who have stepped up in various ways in 2020. Gratefully we acknowledge especially those who literally saved us from closing down in 2020 due to my own personal hardships. I'm not sure I want to remember 2020, frankly. It is, as always, the family here who keeps us going.

Among them is one who really put Christmas out there this year in a variety of ways -- both here on MMC and in the community at large.

I'm pleased to announce that our Louann Jeffries Award is presented to @GWarren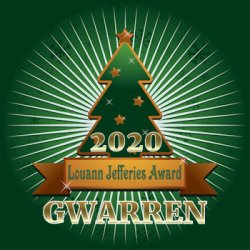 If you don't recognize Glen's name you must have been under a rock all year. Glen has been everywhere.

He has risen to the occasion to support us time and time again. Every chat. Every event. Every little thing we have tried to do to lift spirits and to share Christmas he has been a part of.

Most exciting, Glen put himself out there by creating his own Christmas podcast - Seasons Eatings -- which is just an extension of the Christmas within him. He shares incredible expertise that he has on a professional level and mixes it with his love of Christmas. How awesome is that?

To me, he has been simply inspiring in all he has given and created.

As you see Glen online, please thank him.