Chief Elf Officer
MMC Founder
Santa's Elf
Kringle Radio DJ
Oct 7, 2004
16,048
15,660
1,222,381
I might be pushing this out a little fast but you can help us tweak this as we go along. We have added another forum style to our offering, hopefully as a helpful addition to those who feel blasted by the whiteness of our default theme.
This is a screengrab of a style we are calling "MMC Classic":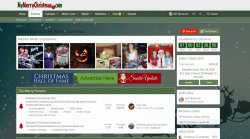 As you can see, this look is very much in line with our previous version of the Merry Forums, so it should be familiar to most forum users in at least an intuitive sense. All the features you see on our main theme are available in the MMC Classic theme.
I have activated the theme for all users.
To get to get, go to your "
Preferences
" section of your user control panel: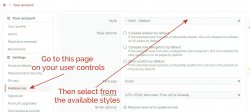 Everything should function the same. And while we have worked this theme a lot over the past month we feel there are likely more tweaks needed. There are minor differences and there could be some color tweaks needed based on what you could see on various screens.
If you see something that doesn't look right or needs a change PLEASE let me know.

One word of caution for all users:
the forums have a high degree of flexibility in terms of what you can make your own posts and profiles look like. Lots of text choices, lots of colors, etc. Please remember that as we introduce new styles the look of what you post on whatever style you use may not look so good on the style choices of others. Forum experts out there say we shouldn't give users so many choices because of this kind of thing. I don't believe in that. You should have the choice to be as creative as we can make. Just bear in mind your responsibility to others as you have fun.
On the MMC Classic theme there is a little short-cut that is unique. If you're in that theme and want to switch to another you can use a "style chooser" embedded in the footer of that theme. It's handy.