A Voice from the North
MMC Lifer
MMC Donor
Christmas Crew
Louann Jeffries Award
Santa's Elf
Kringle Radio DJ
Nov 6, 2008
26,765
79,639
5,209,381
NOTE: THIS EVENT WAS HELD IN 2016---IF YOU'RE JUST SEEING THIS THREAD NOW ... YOU MISSED IT!
If you're a fan of Christmas films---and vintage films in particular---and live within hailing distance of Newton, MA, be sure to save Monday evening, December 12, 2016.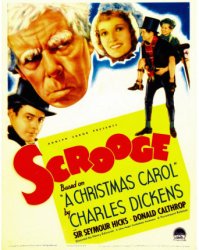 Headlining the show will be "Scrooge" (1935, starring Sir Seymour Hicks). If you've seen the cut-down hour-long version on video and were turned off by the fuzzy, foggy, gray quality of the movie, forget you've ever seen it. We're screening a
full-length, archive-quality 16mm print
struck in 1936 from the original negative
.
The details are sharp, the photography is nuanced and atmospheric, and the title role is played by the Seymour Hicks, the actor who defined the role of Scrooge in England for decades: on stage, on the screen (in both a silent and a sound film), and on radio. Kudos also to Donald Calthrop, who offers the finest portrayal of Bob Cratchit ever seen onscreen.
We'll also be screening a second feature film, plus a couple of Christmas-themed short subjects.
For more information,
please visit the webpage for the show
. It includes directions and a link to an audio featurette that tells more about "Scrooge." Please PM me if you are interested in attending, have questions, or would like a flyer that tells more about the other films in the show.
This will be a fun movie night, and a rare opportunity to see the classic "Scrooge" as it was intended to be seen. Don't miss it!
Last edited: