Chief Elf Officer
MMC Founder
Santa's Elf
Kringle Radio DJ
Oct 7, 2004
16,825
16,967
1,222,381
MyMerryChristmas desires to host reviews of everything Christmas related -- products, movies, podcasts, books, songs, plays, stores -- anything Christmas related that you can think of we want to review.
When we say "we" we mean the Christmas community. We want our reviews to be real. Unpaid. Unsponsored. Authentic. Genuine. From the Christmas community.
So we have set up
this special area
so that YOU can post reviews of anything Christmas you experience. To post your own review just go to that area and select post a Christmas review:

You will be taken to a form where you give your review: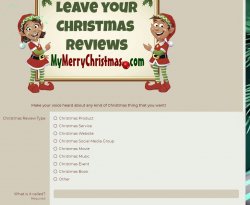 That's all there is to it.
You can see a finished review here
.
After your review is posted we will encourage other site users to respond to your review. The addition of comments to the review will make the review better -- whether they agree with your review or not. We are asking your opinion. There are no right or wrong answers.
But we want reviews from you desperately. We believe reviews will make the community stronger and what we offer more valuable. You will be rewarded with 10,000 points for every Christmas review you post. (Points go towards your goal of achieving lifetime cost-free membership to the Merry Forums).
Occasionally we will have contests to support Christmas reviews.
If you have any problems posting a Christmas review please let me know.