Chief Elf Officer
MMC Founder
Santa's Elf
Kringle Radio DJ
Oct 7, 2004
16,825
16,967
1,222,381
A referral link is a link to the Merry Forums that contains your unique member ID. You can use your referral link to invite others to register. Send them your link and when they register, they will automatically become your referrals.
How does the referring process work?
When someone visits us via your referral link, a cookie containing your unique member ID will be placed in the visitor's browser and when that visitor registers, automatically becomes your referral. YOU get credit for them being here and participating. That credit shows up as Trophy points.
How do I find my referral link?
In your user control panel there is an option called
Your Referrals
. Selecting that will show you your links and tools you can use to share it with your friends.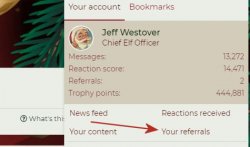 Share the link itself or use a banner link that can be posted on websites and social media. Both the link and the code needed to share are available through the interface.
You can also use the referral system to send your referral code via email to your friends. This email method keeps track of who you send to and who responds to your invitation.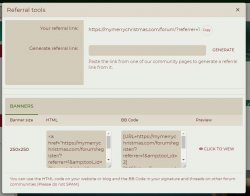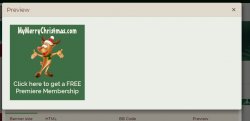 There is no other method that will help you gain trophy points than using the referral system. Everyone wins when you use it.
Also remember that occasionally, such as during Christmas in July and other special events, the referral system is used to offer other kinds of incentives to you and to new members.