Chief Elf Officer
MMC Founder
Santa's Elf
Kringle Radio DJ
Oct 7, 2004
16,056
15,694
1,222,381
Ok, folks we're coming down the home stretch -- finally! -- on all the site changes. The past 48 hours have been signficant.
We finally have a "unfied site". For the past sixteen years, dating back to when we opened the Merry Forums, we have essentially had two parts to the site that never seemed to come together. There was the forum side, which you are most familiar with. And then there was the content site, where our Christmas features are all posted.
Today we finally got those world to collide into one seamless interface. Now, when a new person comes to the site -- or when YOU come to the site and you're not yet logged in, this is what is seen: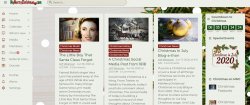 As you can see, the content side of the site now seamlessly integrates with the forums. And it's not just a look. If you read an article and want to comment on it, you can under the same login that you use for the forums. That doesn't sound like a big deal, but trust me -- it's taken YEARS to make this happen.
Part of this integration process was adding in a darker or more subdued style that is layed out exactly the same. I like it so much, I have made this darker theme the default that you will see when you come to the site. It's called "MMC - Merry". The all-white theme that you have been using for about a month is still an option, just not the default. I've renamed it "MMC - Bright".
You can access a style switch either on the "
Preferences
" page in your User Control Panel or by using the little switcher down below that is shown in this photo:

The styles are available to ALL users.
We still have work being done on some other alternative styles. And, for now, I've taken the MMC- Dark theme back into the shop for repair as the integration with the front end did not go well with that theme. It will be back after it gets a work over.
I am hoping to have another exciting look to announce during Christmas in July.
There are still things to tweak, mostly with sidebars. That will happen over the weekend. As you do your clicking and browsing this weekend I would appreciate knowing anything that you see that doesn't seem right. It's become a complicated process doing all this between desktops, tablets and phones. I really appreciate those of you willing to look at the forums especially on phones. It works for me on mobile and it looks great for me. But I have a phone with a massive screen. Not everyone does and that concerns me.
Please comment, take screen shots, etc. I really want all this technical stuff behind us by Leon Day so we can just get on with more enjoyable things.
Thanks!