Chief Elf Officer
MMC Founder
Santa's Elf
Kringle Radio DJ
Oct 7, 2004
16,825
16,967
1,222,381
The following feature is for Premiere and Lifer members of the Merry Forums:
You can customize the color of your username as it appears in various places on the Merry Forums, including in your profile, by following the steps below:
1. Go to your user control panel and select "Account Details":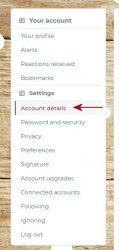 2. At the top of the details screen is a selection area for either choosing a pre-set color or using a custom color. Select one or click the color box put in your own color.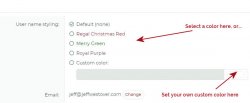 I've selected "Merry Green" -- and you see how my name is different from others currently online seen on the forum homepage or on my profile page.
It's a fun little customizing feature.