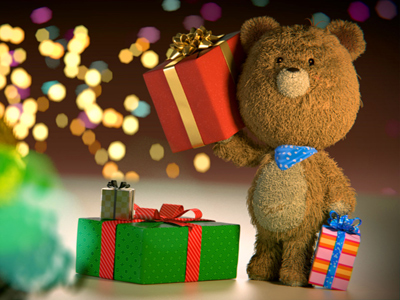 Christmas past of more than a hundred years ago is our topic as we explore Christmas toy fads of the early 20th century in the latest episode of the Merry Podcast. Within a span of about 15 years there were many toys that reach mass market status but real appeal was, like now, what drove sales.
The first was the introduction of the Teddy Bear, a soft and fuzzy toy inspired by a President and a real live bear — that he refused to shoot. It's a great story about a timeless toy that still finds its way under Christmas trees today. Listen to hear how it all happened.
This episode also gives you plenty of variety if you're into alternative versions of A Visit from St. Nicholas, or, as it is sometimes known, Twas the Night Before Christmas. Some say the first rap song ever dates back to the 1950s when Art Carney gave his syncopated telling of the classic story. But in this episode you'll also get versions from John Cleese, Larry the Cable Guy and even from a galaxy far, far away.
Then there's more toys — specifically, we tell you the story of Crayola Crayons and Raggedy Ann and Andy, both big sellers and Christmas favorites more than a century ago.
In all, this is an hour of pure Christmas fun and music all wrapped up in the child's magic of Christmas. Enjoy:
https://mymerrychristmas.com/x/wp-content/uploads/2016/04/Christmas_Teddy_Bear_Gifts12_2013_freecomputerdesktopwallpaper_p.jpg
300
400
Jeff Westover
https://mymerrychristmas.com/x/wp-content/uploads/2020/05/logo2-300x88.png
Jeff Westover
2016-04-18 22:16:20
2016-04-18 22:16:20
Merry Podcast #51 -- Christmas Toy Fads of the Early 20th Century