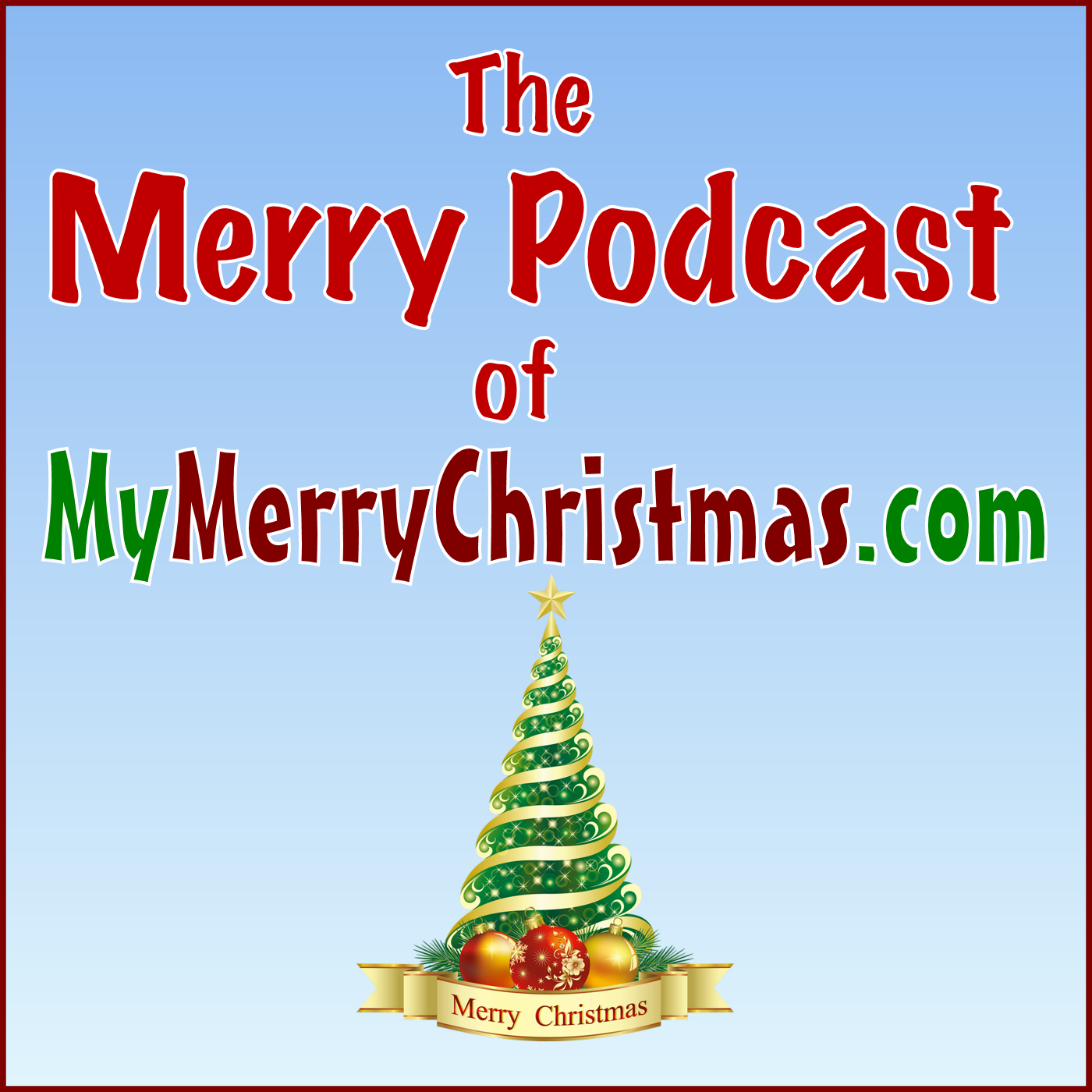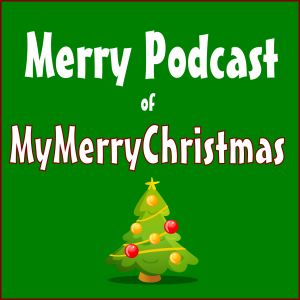 At last, a Christmas podcast that is My Merry Christmas for your ears! (And we've got TWO versions!)
The Merry Podcast is our audio edition of the best of MMC. It features one-of-a-kind programs exploring everything about Christmas with the help of the team from Kringle Radio, our online radio station broadcasting commercial-free Christmas year-round.
Each episode of Christmas podcast bliss provides more than an hour of great entertainment, news, features and trivia of all things Christmas. The full-throated, high octane and completely premium Merry Podcast is available exclusively for our premiere members at this link.
The episode listing below shows a theme for each episode. These productions are typically an hour in length on average.
We actually have two Christmas podcasts — The Merry Little Podcast is our new preview edition that gives you audio Christmas in smaller doses — ten to fifteen minutes in each episode.
You can listen to The Merry Podcast on the Merry Forums or The Merry Little Podcast at iTunes.
Have music or something to share for the Merry Podcast? Contact the producers here
Archives of the Merry Little Podcast
#44 —The Christmas Hall of Fame
#43 — Christmas in Crisis
#42 — Christmas Eve
#41 — The Christmases of World War II
#40 — Christmas Before Christ
#39 — Awful, No Good, Very Bad Christmas Music
#38 — New Christmas Music 2018
#37 — The Legend of The Christmas Stocking
#36 — Christmas Pranks
#35 — The Deeper Meaning of Christmas Ornaments
#34 — The Wildly Popular Custom of Christmas Greetings
#33 — Great Moments in North Pole Radio
#32 — Christmas in the 60s
#31 — Christmas Too Early
#30 — Pumpkin Love
#29 — Celebrating 200 Years of Silent Night
#28 — A Festive Rant about Bruce Willis, Die Hard and Christmas
#27 — The Patriot Christmas
#26 — Leon Day
#25 — The Christmas Movies You Watch When It is Not Christmas
#24 — The Atheist: A True Story of Christmas and Easter
#23 — The Christmas Hero in Jimmy Stewart
#22 — The House of Seven Santas
#21 — Stuff We Don't Do with Christmas Trees Anymore
#20 — Why Christmas Begins with Thanksgiving
#19 — The Southern Christmas
#18 — Twas the Night Before Christmas
#17 — Christmas is Religious and That's Okay
#16 — The Very Old Christmas
#15 — Christmas Anniversaries
#14 — Santa's Replay
#13 — Giving Dickens the Dickens
#12 — Debunking Everyone on the War on Christmas
#11 — Ironies of Thanksgiving and Christmas
#10 — Gossip and Lies of Rudolph the Red Nosed Reindeer
#9 — Highlights of Tracking Santa 2015
#8 — Bah, Bah, Bah Bing!
#7 — What We Learn About White Christmas from It's a Wonderful Life
#6 — From the Mountains of Christmas She Comes
#5 — The Myth and Miracle of the Magi
#4 — Top Ten Christmas Villains
#3 — For the Love of The Christmas Song
#2 — Get Your Jingle On
#1 — The Grinch that Stole Christmas Radio (Introducing the Merry Little Podcast)
Click Here to Hear The Merry Podcast
Merry Podcast #64 — The Naughty Episode
Merry Podcast #63 — Christmas 1968
Merry Podcast #62 — More Stories Behind the Great Music of Christmas
Merry Podcast #61 — Christmas of the Mid-19th Century
Merry Podcast #60 — The Real Christmas of Early America
Merry Podcast #59 — Christmas for a Hot August Night
Merry Podcast #58 — Christmas When It Ain't
Merry Podcast #57 — The Big Christmas Show 2016
Merry Podcast #56 — Thanksgiving and the Gospel Christmas
Merry Podcast #55 — Highlights of Tracking Santa 2015
Merry Podcast #54 — Christmas Creeps, Monsters and Ghosts
Merry Podcast #53 — Christmas Songs You Don't Know that You Know
Merry Podcast #52 — Top Ten Best Selling Christmas Songs of All Time
Merry Podcast #51 — Christmas Toy Fads of the Early 20th Century
Merry Podcast #50 — The Light of Christmas
Merry Podcast #49 — Turkey and Tunes
Merry Podcast #48 — The Pumpkin Spice Episode
Merry Podcast #47 — O Little Towns of Christmas
Merry Podcast #46 — Highlights from Tracking Santa
Merry Podcast #45 — Classic Christmas Movie Trivia
Merry Podcast #44 — Christmas Destinations
Merry Podcast #43 — Thanksgiving 2014
Merry Podcast #42 — Christmas from Italy
Merry Podcast #41 — A Muppet of a Podcast
Merry Podcast #40 — Christmas 1944
Merry Podcast #39 — Anticipating Santa
Merry Podcast #38 — Christmas Anniversaries
Merry Podcast #37 — Snow!
Merry Podcast #36 — Christmas Trends 2014
Merry Podcast #35 — Influences of Christmas
Merry Podcast #34 — Christmas Ghosts, Angels and Gods
Merry Podcast #33 — More New Artists and Songs of Christmas 2013
Merry Podcast #32 — New Artists and Songs of Christmas 2013
Merry Podcast #31 — Christmas Geeks & Technology
Merry Podcast #30 — Christmas & Freedom
Merry Podcast #29 — Counting Down to Christmas
Merry Podcast #28 — The Macho Christmas
Merry Podcast #27 — Pioneer Christmas
Merry Podcast #26 — All You Need is Elves
Merry Podcast #25 — We'll Leave the Light on For You, Mr. Dickens
Merry Podcast #24 — The Big Christmas Show 2012
Merry Podcast #23 — The Thanksgiving Show 2012
Merry Podcast #22 — A Child's Christmas —
Merry Podcast #21 — The Christmas You Don't Know
Merry Podcast #20 — Christmas in the 1940s
Merry Podcast #19 — Modern Legends of Christmas
Merry Podcast #18 — Old Timey Christmas
Merry Podcast #17 — Christmas at Sea
Merry Podcast #16 — The Big Christmas Show 2011
Merry Podcast #15 — Romance of Christmas
Merry Podcast #14 — Thanksgiving Show 2011
Merry Podcast #13 — Christmas Comedy
Merry Podcast #12 — Christmas Music 2011
Merry Podcast #11 — Sacred and Secular Christmas
Merry Podcast #10 — Christmas at the Movies
Merry Podcast #9 — The American Christmas
Merry Podcast #8 — Odd Christmas Traditions
Merry Podcast #7 — We Need a Little Christmas
Merry Podcast #6 — The Big Christmas Show 2010
Merry Podcast #5 — Legend of Santa Claus
Merry Podcast #4 — Thanksgiving Show 2010
Merry Podcast #3 — White Christmas
Merry Podcast #2 — Christmas Season 2010
Merry Podcast #1 — Green Chri$tma$