The annual Christmas concert of the Mormon Tabernacle Choir has become a staple of Christmas television on PBS and has provided release after release of reliably solid Christmas entertainment on both DVD and CD for years now.
But I will admit to being a bit apprehensive attending the 2014 Christmas Concert in Salt Lake City titled Keep Christmas With You featuring Sesame Street's Muppets.
As better than 21,000 people streamed into the Conference Center for the first time a great many attendees were children, many of them young and small. How were they going to occupy their time and keep their attention for so many kids up so late?
I need not have worried. The kids were enthralled, as well they should have been with the likes of Big Bird, Bert and Ernie and several other of their favorites from Sesame Street singing both Christmas and the best of Sesame Street. They were balanced by the capable presence of Broadway star Santino Fontana whose incredible voice and boy-like exuberance were a perfect match.
For all the concerts I've attended over the years this is the first that actually shows better on television than it did in person. Big Bird was not so big in that auditorium and the real charm of the characters and the performance shines better on DVD than in person.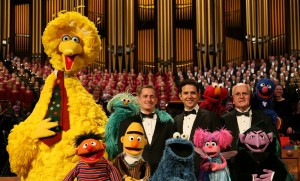 That doesn't mean there wasn't magic during the live show — there was a buzz and an energy brought by the children themselves that added a new element to the experience. That translates well on the DVD. Very clearly everyone had a great time.
Musical standouts from the night included Fontana singing Candy Man while descending in a balloon. And where else could you find everyone in the building singing We Wish You a Merry Christmas at the top of their lungs? It was a night of childlike wonder for everyone there.
That's what makes this particular concert so watchable.
It just charms your socks off to hear Bert get over his fear of public performance in Sing as he is encouraged by Fontana and a children's stage chorus that is obviously thrilled to take part.
The Count was there and who better to do The Twelve Days of Christmas? His song with the ever-clever Richard Elliott at the organ was fun and, as usual for Mr. Elliott, brought down the house.
Sesame Street's signature Christmas tune, Keep Christmas with You, melts you both in message and music and will draw tears, unless you're a cold-hearted Scrooge. This is a frequent Choir Christmas experience but one surprising for the Muppets. It provided the most pensive moment of the evening, one that kept the children dead silent and their faces glued to the stage.
Watching this with my teenage and young adult children — and hearing "awwwww" after "awwwww" — and seeing them sing along to a DVD only confirmed my suspicions that my review is not really the lunatic rantings of a squishy old grandpa. This concert was pure Christmas, from start to finish.
The event airs in part on PBS nationwide later this Christmas and is available now on DVD and CD at this link.
Highlights are below with hopefully some more clips to be released in the near future:

Father of 7, Grandfather of 7, husband of 1. Freelance writer, Major League baseball geek, aspiring Family Historian.