The greatest joy in Christmas is giving and for Christmas in July you can be Santa!
For My Merry Christmas, that means Santa's Sleigh — our little effort to give together for a few folks who need Christmas.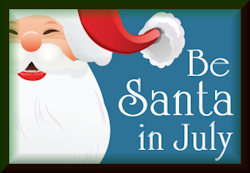 And we will begin with ourselves: EVERY premiere membership sold on the Merry Forums goes 100% to Santa's Sleigh.
It's our biggest fund raiser of the year and this year it goes through the end of the year.
Did you know that you can gift a premiere membership?
If you go to account upgrades in your Merry Forums account you can purchase a gift membership for anyone — even someone who already has a membership. That means you can select a membership for someone new or extend someone who is already a member. This picture shows you how to do it: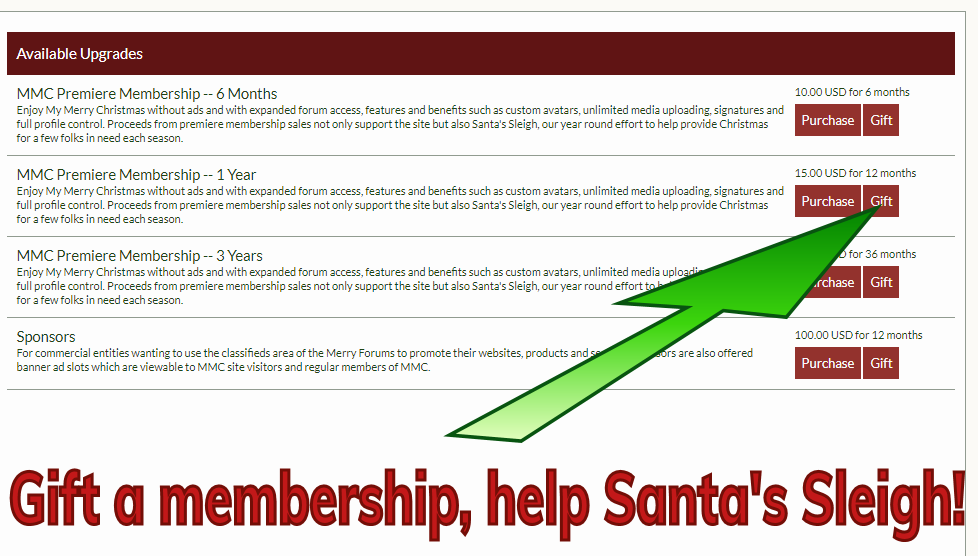 We are also making available the following ways to Be Santa in July:
Drop a dollar in Santa's Sleigh
For PREMIERE MEMBERS only! If you make a contribution to Santa's Sleigh of just $1 or more, you can make anyone a premiere member for 30 days. Just make your donation and identify who you want to promote to premiere for a month and it's done. (And once you have a new member promoted as premiere they can participate in any of the deals below)
Five Dollar Facebook
Give our Facebook page a like and drop $5 in to Santa's Sleigh and we will extend your membership for 1 six months.
Ten Dollar Twitter
Retweet ANY of our Tweets from our Twitter page, drop $10 in to Santa's Sleigh and we will extend your premiere membership for 1 full year.
Go Full Blown Kringle
Anyone who makes a $100 donation (or more) to Santa's Sleigh receives a LIFETIME membership to My Merry Christmas.
This is FREE
If you know of a local church, service organization, licensed charity or group that can be a sponsor for Santa's Sleigh this year, please share that information here. We are most interested in helping where we can in the communities of our members. A "sponsor" of Santa's Sleigh is someone on the ground and close to situations where we can help. It does not cost them anything to participate and they guard our anonymity in giving.
Please follow and like us: