Christmas is a traditional season of peace but even Santa straps on the uniform of a soldier when called to duty.
Over time Santa has been "enlisted" in the cause of one side or another in periods of war. Not surprisingly, most of the images of Santa associated with war are American and date from the 19th century forward.
The earliest known connection between Santa and war has to be through the artwork of 19th century illustrator Thomas Nast.
Born in Germany in 1840, Nast had been brought to New York by his mother at the age of 6. He had studied art, become a draftsman in 1854 at age 15 for Frank Leslie's Illustrated Newspaper, then moved to the New York Illustrated News in 1859.
By the summer of 1862 he had secured a position with Harper's Weekly as a war correspondent.
He soon became known for drawing battlefield scenes that dramatically illustrated the horrors of war for civilians back home.
Nast vehemently opposed slavery and was a fierce supporter of the Union cause. His position at Harper's Weekly offered him a weekly platform with national circulation. He also had the ear — and the backing — of President Abraham Lincoln.
Nast frequently and dramatically used his artistic talents as a caricaturist, illustrator and political cartoonist to advance his views. Even his two drawings for Christmas of 1862 that included Santa conveyed strong Union messages: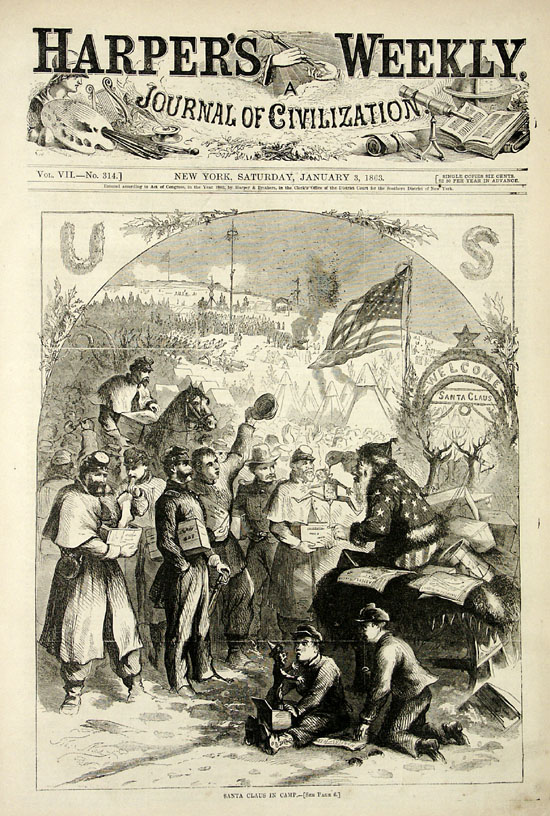 This illustration appeared in the January 3, 1863 edition of Harper's Weekly, and shows Santa Claus visiting a Civil War Camp. In the background, a sign can be seen that reads "Welcome Santa Claus." The illustration shows Santa handing out gifts to Children and Soldiers. One soldier receives a new pair of socks, which would no doubt be one of the most wonderful things a soldier of the time could receive. Santa is pictured sitting on his sleigh, which is being pulled by reindeer. Santa is pictured with a long white beard, a furry hat, collar and belt.
Controversially, Santa appears to be lynching a figure in this illustration, a graphic thing for Santa to do in any setting. In truth, Santa is holding a puppet who bears a remarkable resemblance to Confederate President Jefferson Davis.
While Nast was both politically employed and motivated in his use of Santa Claus in his drawings he did not miss the opportunity to showcase sentimentally and the pain of Christmas missed in his public works. Another 1862 drawing shows Christmas for the soldier and his wife at home, who has dutifully tucked her children into bed. While they dream of Santa, pictured in the upper left going down a chimney, she prays for the well being of her husband: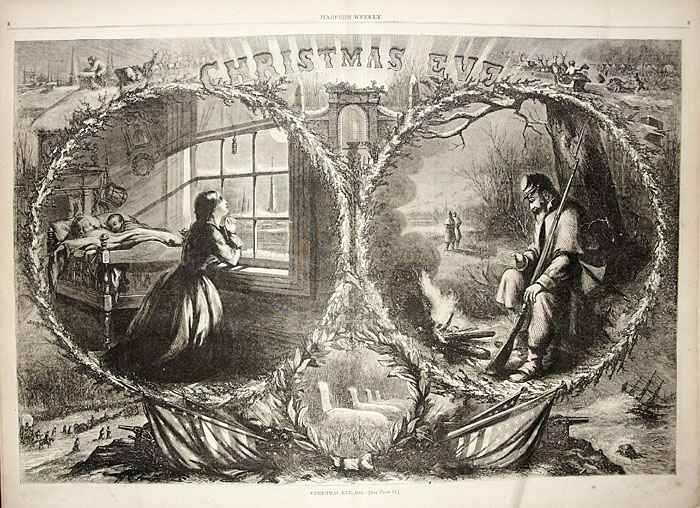 By 1863 the Civil War was raging. Nast's artwork was firmly established as a staple for Harper's Weekly and he had the equivalent national audience of any cable news commentator today. In this multi-image illustration from Christmas 1863 Nast shows Christmas Eve on the left as Santa tries not to awaken the children and Christmas morning on the right, showing the kids opening their treasures. In the center is an image titled "Furlough", a Christmas reunion between a soldier and his family complete with hugs and kisses.
These emotional images, with Santa firmly involved, were propaganda at its best. Lincoln, who enlisted Nast's talents again and again, felt the use of Santa in imagery gave credibility to the Union cause. By Christmas of 1863, Southern mothers were warning their children that not even Santa could get past the Union blockades to bring presents, and kids believed because they had seen Santa on the side of the Union in Harper's Weekly. By 1864, Lincoln was suggesting a Christmas dinner offering reunification with the South: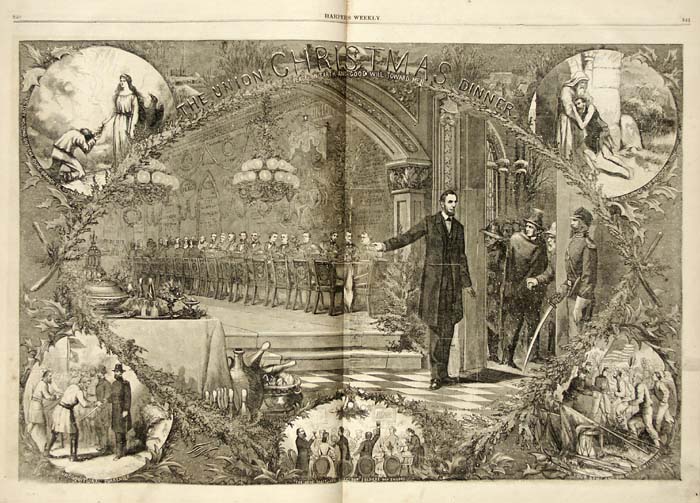 By the time World War I rolled around the public was already used to seeing Santa "out of character" from traditional Christmas settings. Advertisers had seized on Santa's popularity and used him as their favorite pitchman for everything from soap to tobacco. But when war came around, Santa, like everyone else, joined the cause. Here he is promoting peace in an image from World War I: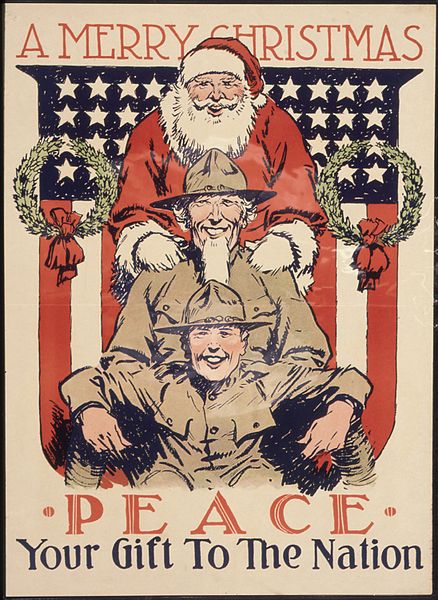 Santa's call for peace was limited to the first world war. By the 1940s, Santa took a more vicious approach to America's enemies: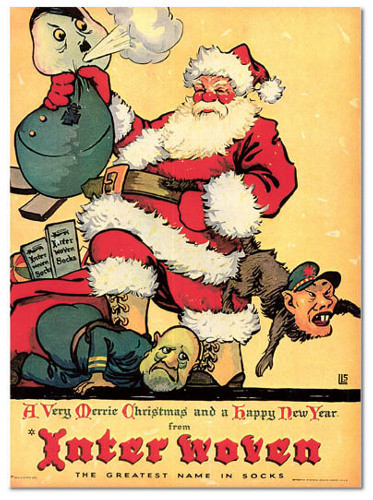 In this image Santa not only promotes a brand of socks but is giving Japanese Emperor Hirohito and company a tough time. Here is a kinder, gentler Santa selling war bonds: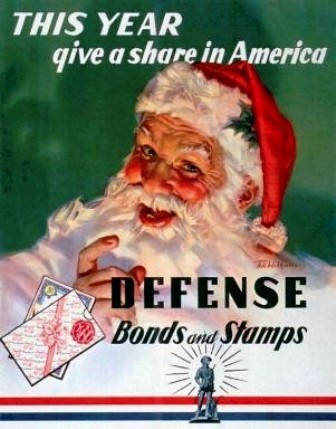 And here — like Joe Dimaggio and Jimmy Stewart — Santa straps on a uniform and grabs a weapon:

Father of 7, Grandfather of 7, husband of 1. Freelance writer, Major League baseball geek, aspiring Family Historian.