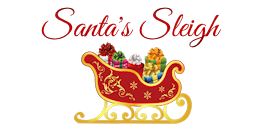 More than a decade ago we began a community effort to give back each Christmas through a project we call Santa's Sleigh.
Our goal each Christmas season is to help provide a modest Christmas for families in need.
We partner with churches and licensed charitable organizations to identify a family and provide them with the resources we can to help.
Usually it comes in the form of money but occasionally we have been able to provide other things as well — blankets, food baskets, utility bill payments, medical supplies, etc. It just depends on the need.
One year we helped a disabled boy with the purchase of a vehicle that could accommodate him. Another year we were blessed to be able to pay off the heating bill for a struggling single mom. Our efforts might not be glamorous but we help fill the gaps when the good work of local charities need a little boost.
Click here to read of just one experience we had with Santa's Sleigh.
Almost always these efforts are focused in communities where our members live.
Santa's sleigh works anonymously. We never tell folks where it comes from because that just doesn't matter. Santa always works in secret.
We accept donations of any size and 100% of them are allocated for the cause. There is nothing held back.
As a thank you for participating in Santa's Sleigh, all donors who chip in more than $25 are given a 3-year premiere membership to My Merry Christmas — because we're in this together!
If you know of a local church, service organization, licensed charity or group that can be a sponsor for Santa's Sleigh this year, please share that information here. We are most interested in helping where we can in the communities of our members. A "sponsor" of Santa's Sleigh is someone on the ground and close to situations where we can help. It does not cost them anything to participate and they guard our anonymity in giving.