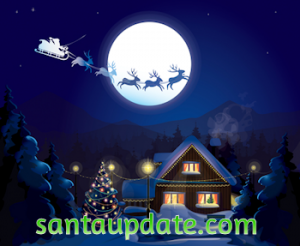 We're pleased to announce that SantaUpdate.com will return this year to the World's Largest Christmas Party. It has become tradition for Santa Update to host live chats with Santa during the party.
SantaUpdate.com is a Santa tracking website of a different flavor. Founded in 1991 when a 5 year old little girl doubted the existence of Santa Claus an elf from the North Pole worked with her on a daily basis by sending her by fax a daily Update from the North Pole telling her the story of Santa Claus and answering her Christmas questions.
In the years since the tradition of the Santa Updates has passed to new kids of rising generations as millions countdown the days to Christmas and track Santa himself on Christmas Eve with live updates every 15 minutes and a 50-hour radio broadcast from the North Pole that tells the story of Santa.
For the moment two chats have been scheduled but as the season draws closer SantaUpdate.com is hoping to free up a little more of The Big Guy's time to accommodate more kids in other time zones around the world.