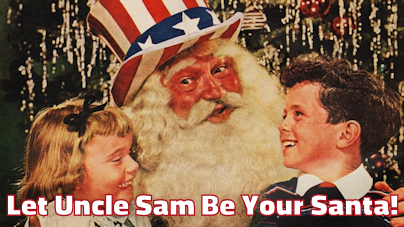 As a high school senior I was lucky enough to enjoy a part time school schedule that allowed me to work a lot of hours. The plan was to save up as much as I could for college. It worked, too. But the biggest shock of my life came in the spring of my freshman year when it came time to do my taxes.
I received what to me was a huge sum of money back from the tax man – a little more than $700.
Naturally, being young and without the limits of my parents that money was gone in a blink of an eye. I can recall well the lecture I received from my father when I told him I had none of that money left.
"Oh, what you could have done with that money!" he said, really pouring it on. I expected him to lecture me about savings and investment.
But he surprised me. Dad said, "You could have flown home for your mother's birthday and still have had money left over for Christmas!"
That was the hook right there – that word Christmas.
Of course, Dad was right. How could I be so dumb?
The next year I couldn't wait to file my tax return. When it came – nearly $900 this time – I instantly put the money where it would be difficult to touch it. I put it in the joint savings account I still held with my mother. If I spent a dime, I knew I would get a call.
"Honey, are you alright? Do you need food?"
Mom thought I lived on crackers and peanut butter.
What that $900 did for me was fuel my Christmas dreams. For several delicious months I schemed with different ways I could spend the money.
I could go home for Christmas with arms full of presents. I could decorate my apartment – and my car – to the hilt. I could take a ski vacation in a dream Christmas destination. The possibilities were endless.
What I began to realize was that it gave me back the delicious anticipation for Christmas I had so enjoyed as a girl.
It made me understand that Christmas wasn't in the getting – it was in the planning, the giving, the build-up and the ability to go do all the Christmas stuff I love to do.
I didn't spend any money until I stumbled upon a treasure while on a getaway with a girlfriend. We visited her family in Maine and there in her little hometown was a little bookstore. We meandered in and after poking around a while I found an original bound copy of a collection of stories written by Edgar Allan Poe.
My Dad – the English major – loves Poe. He always talked of starting a collection of genuine 19th century books. He wanted to fill his home office with such works.
Before me in this bookstore was the Christmas gift for my Dad he never expected. I bought that 1860 edition for the crazy sum of $65 and guarded it with my life for the next six months.
That purchase forced a decision within me. I had to go home that Christmas. I had to see Dad's face when he opened that book.
The realization suddenly brought out my planner. I started to shop for airfare and count paydays until Christmas. I was on an instant budget.
But I had also put myself on a happy train.
Now Christmas was anticipated in a whole new way. I had time and I had resources to really make it an event.
Looking back on it now I cannot decide who had the bigger Christmas – me, or the rest of my family who received my Christmas surprises.
Christmas morning was far better than I ever hoped.
Mom cried when she saw the portrait I had painted of her parents. My little sister squealed when I gave her the first real makeup of her life (she was 11). Dad was rendered simply speechless with his vintage volume of Poe.
Nothing, but nothing could match the surprise of just walking in the door on Christmas Eve morning and telling Mom I was home for three days. In all, it was a Christmas to remember — worth every dollar and all those fantastic days of anticipation.
When Christmas was over all I could think about was my next tax return and what I could do with it.
That has been my routine, year after year, for almost 30 years now.
My Dad and later my husband lectured me about withholding rates and not giving the government free money for a year.
I knew all those arguments.
They did not matter then and they don't matter now.
The tax man is my Santa Claus – my little Christmas savings plan that helps me enjoy the fun of Christmas nearly all year.
Every year it is a different strategy. But every year it gets us through it without having to plan on other funds.
It might not be for everyone. But it works for me.
Contributed by Susan F. Jenks, Christmas lover and now grandmother of twin girls.